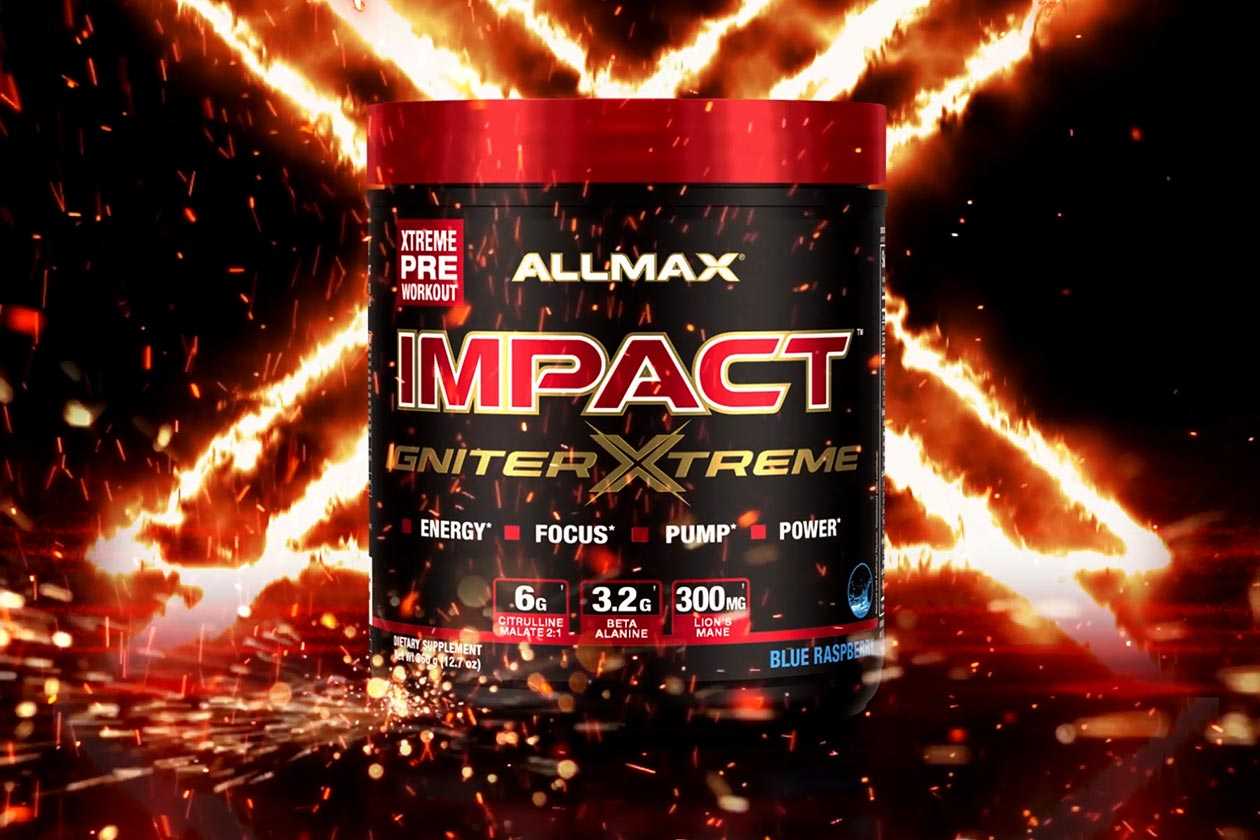 AllMax Nutrition has come out with the next evolution of its premier pre-workout, Impact Igniter, introducing Impact Igniter Xtreme. The supplement is replacing Impact Igniter, and in a big way, as the new Xtreme version has definitely taken things up a notch. The brand has taken the modern approach in Impact Igniter Xtreme and packed it out with several reliable ingredients for a comprehensive experience.
Impact Igniter Xtreme is a balanced, well-rounded pre-workout with a long list of ingredients supporting each core pre-workout benefit in energy, mental focus, pumps, and performance. AllMax Nutrition has also given the product a bit of a weight-loss twist, throwing in the thermogenic enhancing ingredient CaloriBurn-GP branded grains of paradise at a moderate dose of 30mg in the pre-workout's maximum serving.
We've added the full facts panel for AllMax Nutrition's Impact Igniter Xtreme in the image below, and as you can see, it does have that all-out, loaded approach. For pumps and performance, you get a solid 6g of citrulline malate, 2.5g of betaine, and a full 3.2g of beta-alanine; then, for hydration, you get coconut water and Aquamin marine-sourced minerals.
The energy and focus side of Impact Igniter Xtreme is where most of AllMax Nutrition's attention seems to have gone, as you get a lot more ingredients for those benefits than to support pumps and performance. The brand has packed an intense 400mg of caffeine for energy, half a gram of tyrosine, 100mg of alpha-GPC, and 300mg of lion's mane for focus, and lastly, Compound Solutions' dynamic duo of Dynamine and TeaCrine.
Impact Igniter Xtreme is certainly a step up from its predecessor, Impact Igniter, at least based on its formula. It has plenty of ingredients and dosages to deliver that balance of energy, focus, pumps, and performance, although once again, it really looks like AllMax Nutrition has put extra attention on the energy and focus in Impact Igniter Xtreme.
AllMax Nutrition has already made its latest pre-workout competitor available for purchase directly through its online store at allmaxnutrition.com in three flavors with Blue Raspberry, Pineapple Mango, and a classic Fruit Punch. Straight from the brand, despite the improvements and more advanced formula, Impact Igniter Xtreme is the same price as Impact Igniter at $39.99 for a tub of 20 full-size servings.