The Lifeline Series is Core Nutritionals' selection of supplements geared more toward health and wellness benefits, such as cardiovascular, prostate, and organ health. Despite the products having a more specialized focus, the brand still manages to pack them with advanced, premium formulas. The first addition to the Lifeline Series since its debut is now available, and it is for the world of beauty supplements.
Hair, Skin & Nails is the newest entry in Core Nutritionals' Lifeline Series, and it is designed to support all of those benefits in its title, with ingredients for healthy hair, skin, and nails. The brand has brought together several premium and proven ingredients in Hair, Skin & Nails, as well as a few standard ingredients, all aimed at helping the product fulfill the tagline on its bottle of "Comprehensive Aesthetics Support".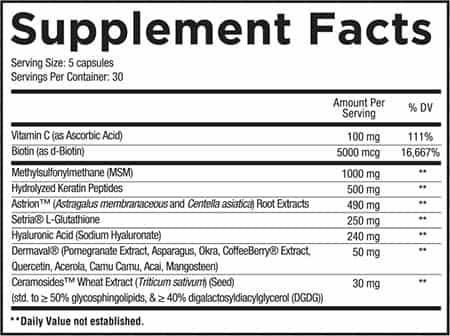 The standard ingredients in a serving of Core Nutritionals' Hair, Skin & Nails are 240mg of hyaluronic acid, 5mg of biotin, 100mg of vitamin C, a gram of MSM, and half a gram of keratin peptides. Then when it comes to premium compounds, you get Ceramosides for skin hydration, 250mg of Setria glutathione, Dermaval to contribute to natural collagen production, and patented Astrion for skin hydration and collagen production.
Hair, Skin & Nails is already in stock and available straight from Core Nutritionals' online store, although if you want to wait a couple of days, there will be a deal for the product. The brand looks to be officially launching the Lifeline Series supplement this Monday, and there will be a deal where instead of Hair, Skin & Nails' usual $54.95, you can get the product and a tub of Collagen at $89.99 before any ongoing coupons.