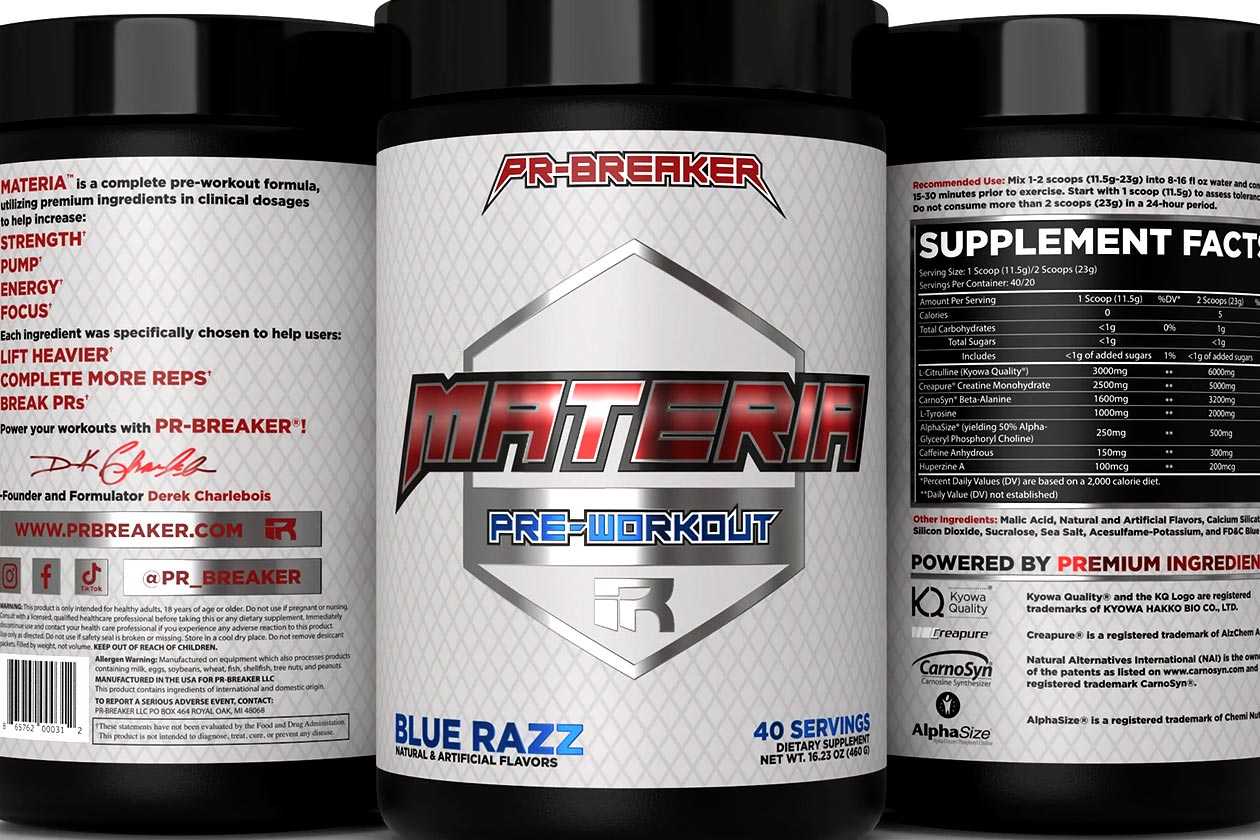 Most of the time, when supplement companies launch a new version, reformulation, or sequel, they make significant changes, usually for a better experience. You also get brands that make only a few tweaks purely because the original is received so well by the fans, and based on the goal of the product and what's already in it, there is not much else that can be done or improved.
The latter appears to be more of the case this month for the release of the long-running brand PR Breaker's comprehensive pre-workout Materia, initially launched five years ago. The first version relied on well-dosed, common ingredients with a hefty 8g of citrulline malate, 3.2g of CarnoSyn branded beta-alanine, a gram of choline, 2g of tyrosine, 5g of CreaPure creatine, and 300mg of caffeine.
Formula changes
This week PR Breaker is shipping out Materia V2, which is very much the same with only a couple of changes, and still keeping that balanced blend of ingredients for energy, focus, pumps, and performance. Basically, everything in the first Materia is in the sequel, except the citrulline malate has been swapped for 6g of pure and premium Kyowa citrulline, and in place of choline, the brand has another focus feature in half a gram of AlphaSize branded alpha-GPC.
Every other ingredient is, as mentioned, exactly the same in PR Breaker's Materia V2, including a full 3.2g of CarnoSyn beta-alanine for performance, 300mg of caffeine for energy, and 5g of tried and true CreaPure creatine monohydrate to support strength and power. This will likely go down very well with fans of the brand, as the formula is tweaked, but the experience will be familiar.
Shipping this week
Once again, PR Breaker is shipping out its refreshed Materia V2 with seemingly better pumps and mental focus this week, and it is now taking pre-orders through its website. Impressively, even with all of the supply chain issues, the updated pre-workout is only $5 more than it was five years ago at $39.99 for a tub of 20 full servings in two flavors, a classic Blue Razz and Grape Candy.