In just over a week, ASC Supplements is releasing another pre-workout, and while it is named similar to the already available regular El Jefe, it is intended to be a separate experience. The Guerilla Series El Jefe is the brand's newest creation for the incredibly competitive pre-workout category, and the goal behind it is to provide a more balanced, well-rounded product that doesn't rely as much on intense stimulants.
You can see the facts panel for ASC Supplements Guerilla Series El Jefe in the image below, and on paper, it lives up to what the brand wants it to be. It is a completely transparent product, which is not the case with the standard El Jefe or even the annual limited edition version, listing the dosages for each of its ingredients to support intense energy, enhanced focus, better pumps, and improved performance.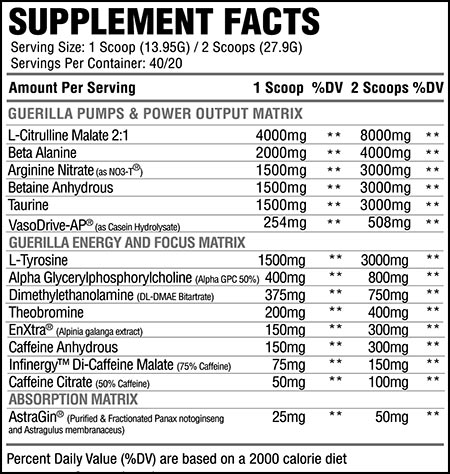 Some of the standout features of ASC Supplements' Guerilla Series El Jefe include a solid 8g of citrulline malate, and the premium pump components 3g of NO3-T arginine nitrate and a hefty 508mg of VasoDrive. While the stimulant side of the pre-workout isn't as exotic, it is not short on highlights, with 3g of tyrosine and 800mg of alpha-GPC for mental focus, 300mg of enXtra, and three types of caffeine combining for around 460mg.
Guerilla Series El Jefe is probably our preferred pre-workout from ASC Supplements purely because of the balance. As mentioned, its blend of stimulants isn't as potent, but again that is the point of the product. It aims to provide a well-rounded experience, and in exchange for that less intense energy, it has additional ingredients and dosages for even more focus, pumps, and performance, at least compared to the regular El Jefe.
ASC Supplements has really brought together quite the competitive formula in Guerilla Series El Jefe, maintaining its reputation of well-put-together products all while bringing an alternative take to the category it's known for. Once again, ASC Supplements is launching its promising new pre-workout on Friday of next week through its online store at ascsupplements.com.