Ninja Unleashed is the powerful pre-workout previously confirmed as coming soon from the still young but growing Ninja. It is a step up from the brand's original competitor in the category, Ninja Up, in more ways than just its much higher level of caffeine. The supplement brings together a broader range of ingredients to deliver that premium experience, similar to many other brands, but with a touch of Ninja.
The full formula powering Ninja Unleashed has been revealed, and as expected, it is a beast of a pre-workout. The sports nutrition brand has well and truly packed out the supplement, with an absolutely intense range and amount of ingredients for energy and focus. Ninja did say the product would have components to make for a more well-rounded formula, but the majority of the formula is geared towards energy and focus.
To support muscle pumps and performance, Ninja Unleashed has a respectable 6g of citrulline malate, 2.5g of betaine, 4g of beta-alanine, a gram of agmatine, pink Himalayan salt, and 125mg of the S7 blend. Everything else in the pre-workout is there to drive the stimulating side of the experience, and that is a hefty total of 17 different ingredients, which should have no trouble coming through with intense energy and focus.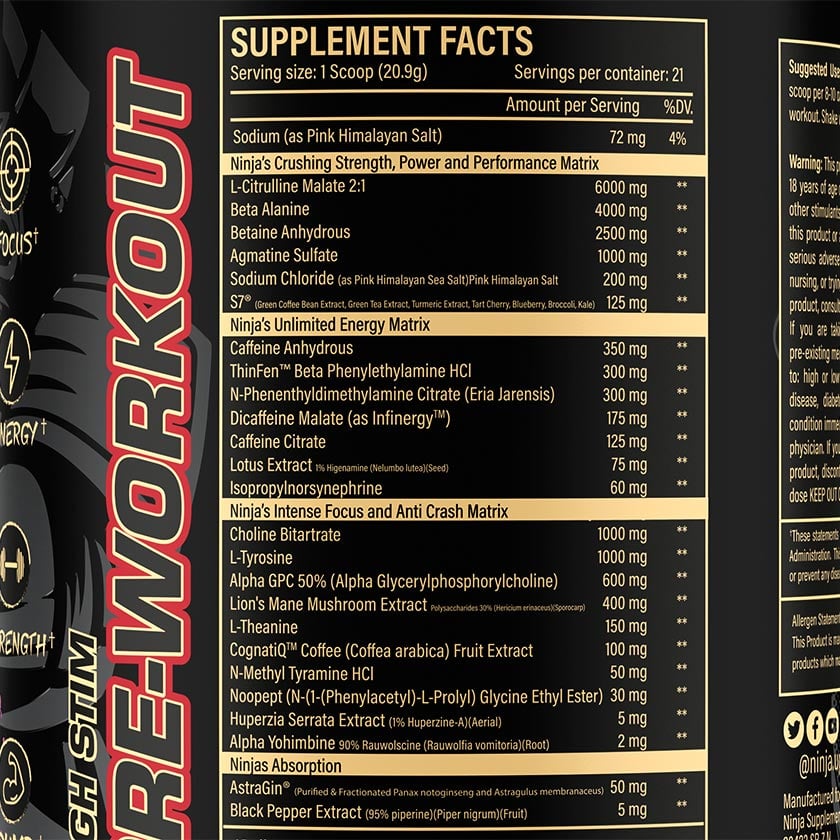 Ninja Unleashed's energy and focus portion includes the likes of eria jarensis at 300mg, another 300mg of Thinfen PEA, 60mg of the potent isopropylnorsynephrine, 30mg of Noopept, 2mg of alpha yohimbine, a gram of tyrosine, 600mg of alpha-GPC, and believe it or not, many others. Caffeine is, of course, also in there at a strong total of just over half a gram from three sources in anhydrous, citrate, and Infinergy di-caffeine malate.
Ninja is planning to launch its potent and promising Ninja Unleashed pre-workout in a little over a week on Saturday, the 3rd of September. It'll be available exclusively through the brand's website in a flavor called Breakstuff, at Supp Kingz in Sour Pop, and Ares Nutrition in Tropical Sour. The supplement is going to have 21 maximum servings per tub, which should get you through a full month, working out at the common five times a week.