Serious Nutrition Solutions is one of our favorite sports nutrition brands to stack; whether you're looking to build muscle, lose weight, or general maintenance, it has an incredibly robust, reliable, and diverse selection of supplements. It is the maker of our number one rated fat burner Lean Edge, which is also stimulant-free, although now the brand has another stimulantless weight loss solution by the name of Thermo Scorch.
While Serious Nutrition Solutions' Lean Edge relies on an extensive lineup of ingredients, respectably and effectively dosed, Thermo Scorch is a little more compact with five; two of those are in Lean Edge, and all of them are premium branded ingredients. Thermo Scorch is built to amplify fat loss, enhance metabolism, and improve appetite control, an extremely convenient benefit when at a calorie deficit, and once again, all without any stimulants.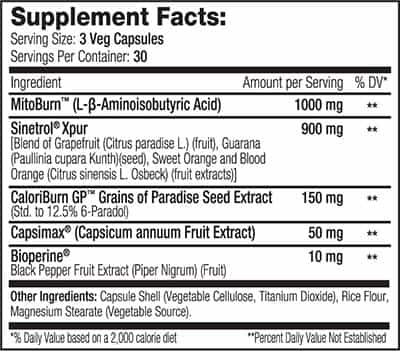 The components fans of Serious Nutrition Solutions will recognize from Lean Edge are Capsimax at the same 50mg dose and 150mg of grains of paradise; however, in Thermo Scorch, it's CaloriBurn GP. The other three are the increasingly popular and study-backed Mitoburn at a hefty gram per serving, another proven ingredient in the Sinetrol blend at 900mg, and lastly, 10mg of BioPerine black pepper to enhance absorption of it all.
Serious Nutrition Solutions has debuted Thermo Scorch through its retail partner DPS Nutrition, where you can grab full-size, 30-serving bottles of the stimulant-free fat burner at $47.99. That is a little more than your typical fat burner, but it's quite a good deal compared to something like Alpha Lion's standalone Mitoburn, which at DPS would cost $63.74 for two bottles, as that's how many you'd need to equal the amount of Mitoburn in Thermo Scorch.