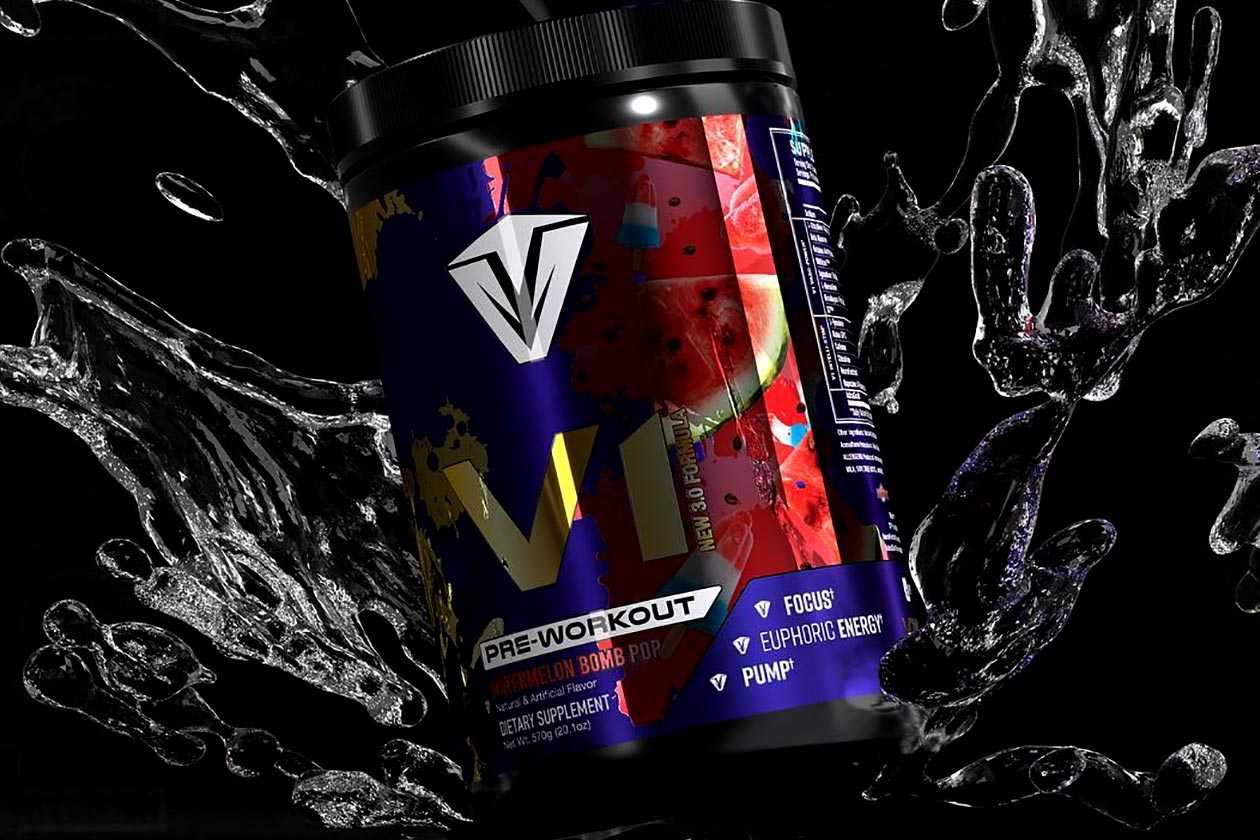 V1 Pre-Workout is the flagship supplement from the still relatively new and growing V1 Nutra, and as per the name, it is a stimulant-backed and balanced pre-workout. While it is the star of the brand's lineup, it isn't its only competitor in the category; it also has the more premium product V1 Ultimate and the stackable, stimulant-free pump pre-workouts Nitrum and Pump X.
V1 Pre-Workout 3.0
For September of 2022, V1 Nutra has decided it is time to reformulate V1 Pre-Workout, which was already a sequel, and introduce V1 Pre-Workout 3.0. There are a number of changes in ingredients and dosages from the refreshed supplement and its predecessor, although it maintains a respectable balance, supporting all of the core benefits in energy, focus, pumps, and performance.
To power muscle pumps, V1 Nutra has added 750mg of premium ViNitrox to V1 Pre-Workout 3.0, halved the agmatine to 500mg, added 50mg of the S7 blend, and dropped the previous V1 Pre-Workout's glycerol. Citrulline is still a key part of the product, but like agmatine, it has been lowered from a hefty 8g of pure citrulline to 9g of citrulline malate, which works out to 6g of citrulline.
For performance and endurance, V1 Nutra has packed V1 Pre-Workout 3.0 with a full 3.2g of the reliable beta-alanine and 2.5g of betaine. The rest of the supplement's formula is for energy and focus, and it is notably without the previous version's potent stimulant isopropylnorsynephrine. There is still plenty more in the mix to drive energy and focus with a gram of tyrosine, premium NeuroFactor, citicoline, 300mg of alpha-GPC, and less caffeine down to 200mg.
New ingredients, similar balance
As you can see, there are a lot of changes to V1 Nutra's third iteration of V1 Pre-Workout; most of them are the swapping of ingredients to support the key benefits like energy and focus. The slightly lower level of caffeine and loss of isopropylnorsynephrine should have an impact, but if you're a fan that liked 3.0's predecessor, there is a good chance you'll enjoy V1 Nutra's latest.
Where to buy
V1 Pre-Workout 3.0 is available straight from V1 Nutra's online store, where it'll cost you $49.99 for a tub of 30 full servings, which is good value as most pre-workouts these days go with that lower 20 maximum servings. The brand does list two flavors for its newest sports nutrition product in, Lemon Lime and Watermelon Bomb Pop, although only the former is in stock.