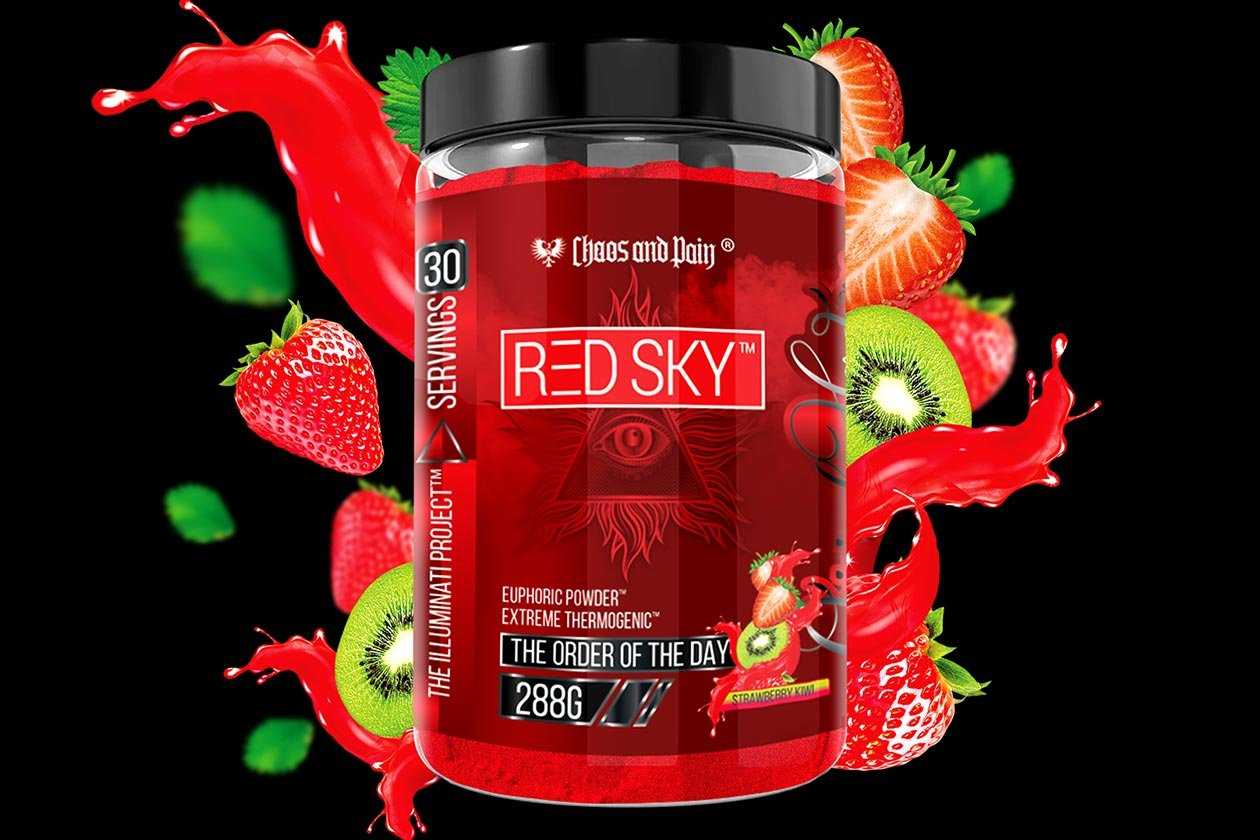 One week from today, Chaos and Pain is launching the highly-anticipated powder version of its reputable and mostly stimulant-powered weight loss supplement Red Sky. To keep the interest and excitement going into the launch of the product, the brand has shared the combination of ingredients and dosages driving the flavored Red Sky, and it is much the same as capsules, with a heavy and intense amount of stimulants.
We've got the facts panel for Chaos and Pain's Red Sky powder directly below, with very few of the ingredients being included for effects outside of stimulating energy and focus. Some of those types of components would be carnitine at a respectable 2g a serving, the thermogenic enhancing GBB at 50mg, and premium Cocoabuterol at 100mg a scoop.
Everything else in the upcoming flavored Red Sky is there for the stimulant experience, and it should have no problem delivering a high-powered, intense, and extreme blend of energy and focus. Helping out on that side of the supplement is a laundry list of stimulants, including juglans regia, isopropylnorsynephrine, yohimbine, alpha yohimbine, theophylline, NeuroPEA eria jarensis, and over 400mg of caffeine.
Chaos and Pain still classifies Red Sky as a fat-burning supplement, although with that amount of stimulants, it could easily pass as a hybrid high-stimulant weight loss pre-workout. Either way, the energy and focus portion of Red Sky powder is the main attraction of the product, similar to the Red Sky capsules, although even compared to that, on paper, this looks like a bit of a step up thanks to its many higher dosages.
As mentioned, Chaos and Pain is launching its incredibly potent and undoubtedly hard-hitting Red Sky powder in one week on Monday of next week, which is, of course, Halloween. It will be slightly more expensive than the capsule original at $59.99 for a bottle of the same amount of serving at 30, in two fruity flavors, Strawberry Kiwi and Strawberry Pineapple.