Vanity is Glaxon's comprehensive beauty support supplement, which it gave fans a first look at almost three months ago in early August. After several other brands have come out with a competitor in the growing beauty space, Glaxon is bringing its approach. Like every other one of its products, Vanity features an impressively complex formula to support a variety of benefits.
Glaxon describes Vanity as a "Total Beauty Care" supplement designed specifically to help with hair, skin, and nail health, strengthen hair and reduce hair loss, and improve skin moisture and elasticity. As mentioned, Glaxon is known for its advanced formulas, and that is no different in Vanity, as it combines several reliable ingredients, including some premium components.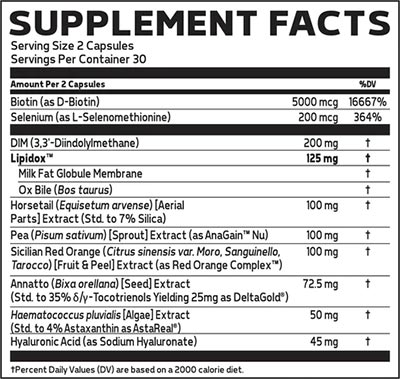 Vanity from Glaxon comes with 200mg of DIM, 45mg of hyaluronic acid, 100mg of horsetail, and 125mg of the Lipidox blend, which the brand uses in many of its products to improve absorption. The rest of the formula is made up of premium ingredients, including 72.5mg of DeltaGold vitamin E, 100mg of the Red Orange Complex, 100mg of AnaGain Nu shown in clinical results to strengthen hair and reduce hair loss, and finally, 50mg of AstraReal, an extensively studied and multi-benefit brand of astaxanthin.
If you're wondering why collagen is missing from the supplement, a feature many beauty competitors include as a key feature, that's because Glaxon does already have a dedicated collagen product in Wonder Collagen. You can stack the two together for even more beauty support, with Wonder Collagen costing $49.99 and the new Vanity coming in slightly cheaper at $39.99 a bottle.