3 months ago
PharmaFreak has unleashed its rather unique pre-workout Achilles Freak, described as an alpha male pre-workout, combining ingredients to support testosterone health, muscle pumps, mental focus, and strong energy. It has a similar kind of approach to the brand's previously released Anabolic Freak Pre-Workout, although the formula behind Achilles Freak is more advanced.
Taking care of the testosterone portion of PharmaFreak's Achilles Freak pre-workout are two ingredients, both respectably dosed in a full serving and commonly relied on for this specific benefit. The brand has thrown in 10mg of boron and slightly more than the usual amount of the premium, multi-benefit KSM-66 ashwagandha at 675mg in a maximum two-scoop serving.
The rest of the formula powering Achilles Freak is there for the pre-workout side of the experience, and PharmaFreak has packed in a fair amount of ingredients. For pumps, you get an impressive 6g of betaine, one of the highest we recall seeing in a pre-workout, and 100mg of the S7 blend. Then for energy and focus, there is 1.5g of tyrosine, 200mg of theobromine, and 325mg of caffeine, which is more than enough for a potent energy kick.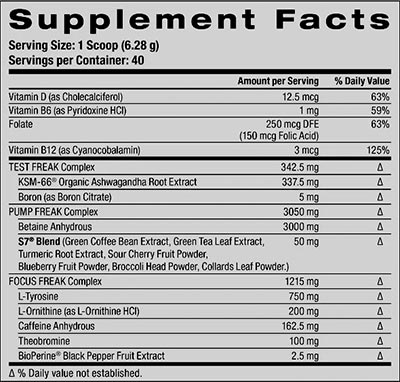 A lot of the time when it comes to hybrid supplements like Achilles Freak, brands will hold back on dosages or variety of ingredients compared to separate products, like a dedicated pre-workout and dedicated testosterone booster. That is not the case here, with the brand really packing in some nice highlights into its full serving, especially the 675mg of KSM-66 and 6g of betaine.
PharmaFreak has made Achilles Freak available for purchase first through its online store at pharmafreak.com, and not only is it competitively priced, but for a limited time, it comes with a freebie. Directly through the brand's website, a tub of 20 maximum servings of the testosterone-boosting pre-workout will cost you $36.73, and currently, it comes with a free branded shaker.