Red Dragon Nutritionals out of Australia has revealed the formula behind its next new supplement, the stimulant-free pump-enhancing pre-workout Dragon Pump. As suspected, the product can be stacked with the brand's already available stimulant pre-workouts, Dragon's Breath and Dragon's Breath Black, for even more intense pumps, or of course, by itself for a purely focus and pump-driving experience.
There aren't a whole lot of ingredients in Red Dragon Nutritionals Dragon Pump, starting with a handful of B vitamins, potassium citrate, and Himalayan pink salt for hydration. The pump portion of the supplement is taken care of by a solid 6g of citrulline malate and 2g of betaine, then to make it a little more complete, Red Dragon has 800mg of tyrosine and 600mg of alpha-GPC to additionally enhance focus.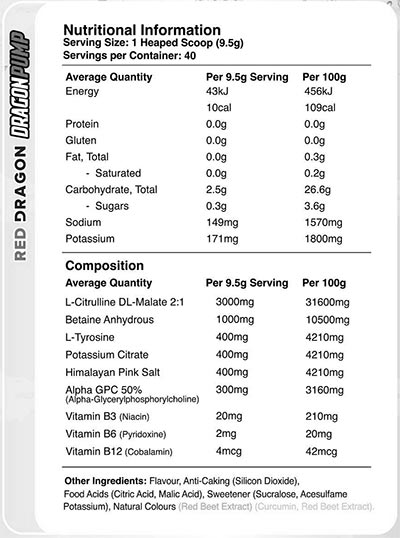 As you can see, Dragon Pump isn't designed entirely to support muscle pumps, so it's not as loaded as something that is all about pumps, but it should have no trouble delivering its promised benefits. The supplement is due to launch in Australia shortly in two candy-themed flavors, Strawberry Burst and Peach Hearts, and a convenient Unflavored option to make it easier to stack with other products.