Reputable Serious Nutrition Solutions, known for its extensive, advanced, and effective selection of supplements, recently took on the muscle-building category in a major way with Anabolic XT. That area of the industry hasn't been a huge focus for the brand, but Anabolic XT certainly made some noise, and now SNS is back with another entry in the space, introducing Phosphatidic Acid XT.
Phosphatidic Acid XT from Serious Nutrition Solutions does indeed feature its title ingredient in the natural muscle-building phosphatidic acid, although, of course, knowing the brand, that's not all that's in there. SNS has taken Phosphatidic Acid XT as an opportunity to craft and create another advanced supplement to support strength, muscle size, performance, endurance, and recovery.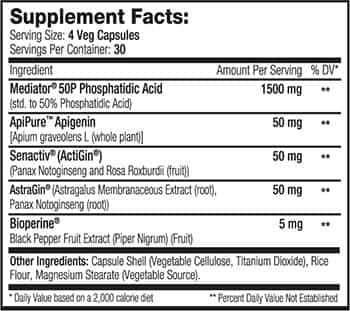 Every serving of Serious Nutrition Solutions' Phosphatidic Acid XT comes with a full 1.5g of premium Mediator branded phosphatidic acid, then 50mg each of ApiPure apigenin and the proven performance-enhancer Senactiv. To top it all off and get even more from those three premier ingredients, the brand has 50mg of the ever-present AstraGin and 5mg of BioPerine to improve absorption.
Phosphatidic Acid XT is another muscle-building supplement that, based on the ingredients Serious Nutrition Solutions has brought together, can seamlessly stack with any of its other products, including the like-minded Anabolic XT. Similar to other phosphatidic acid formulas, SNS' does cost a bit more than your typical supplement at $59.99, although the brand's website does have a bundle that drops it as low as $44 each using our insider coupon code.