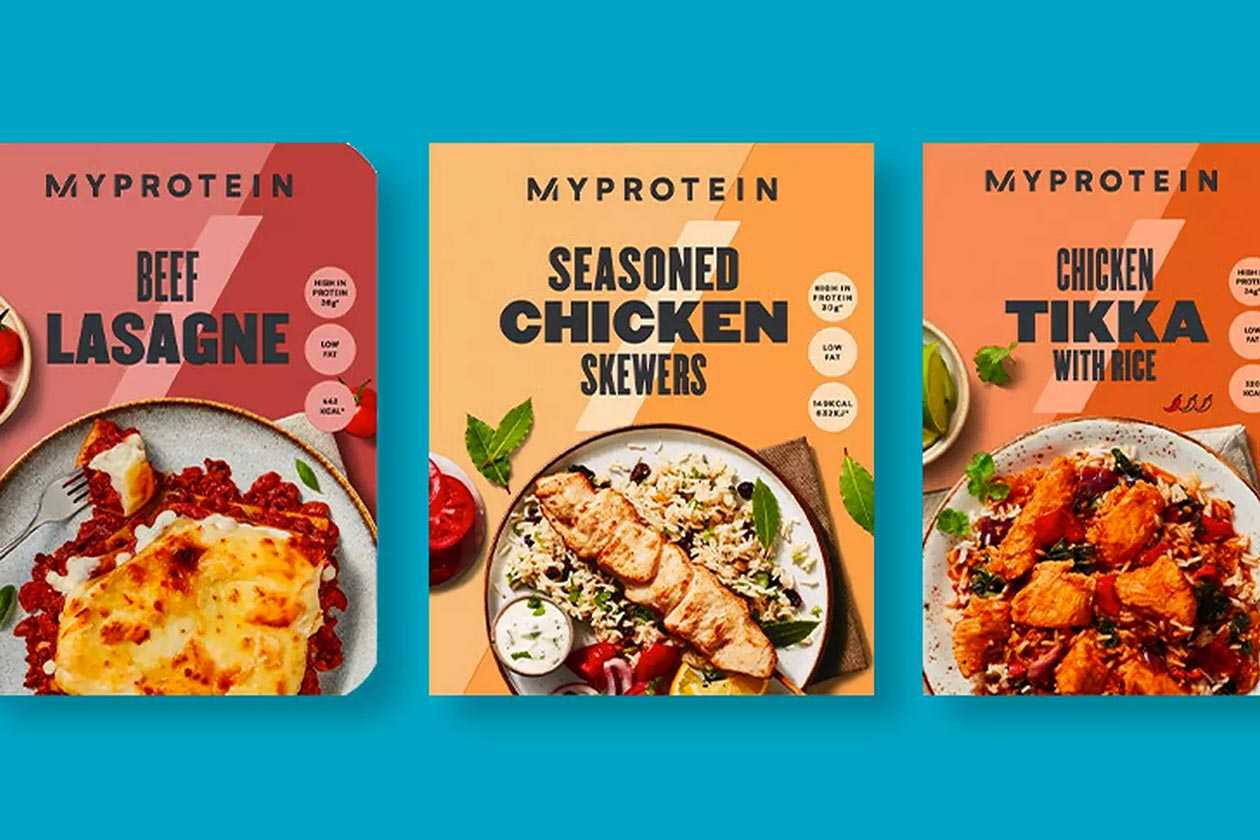 The international sports nutrition company Myprotein, mostly known for its wide variety of competitively priced supplements, has partnered with the supermarket giant Iceland in the UK for an exclusive line of products. Myprotein has cooked up a collection of pre-prepared meals that are packed full of protein, low in fat, have reasonable calories, and, best of all, there is a huge selection of recipes, flavors, and formats to choose from.
Myprotein and Iceland's frozen meal-prep range consists of 15 different products, which you simply take out of the freezer, throw in the microwave for a little bit, and they're good to go. The collection includes the Breakfast Wrap made with chicken sausage, egg, and bacon, providing 40g of protein and 508 calories, and Meat Feast Pasta with minced beef, pork, and chicken meatballs, packing 61g of protein and 633 calories.
Other items filling out Myprotein's meal-prep series are Pulled Pork Mac and Cheese, Katsu Chicken with Rice, Chicken Tikka with Rice, the Chicken Tikka Wrap, Three Bean Wrap, Beef Pasta Bolognese, and the Halloumi Breakfast. The remaining products are the larger 400g+ meals in Beef Lasagne, Piri Piri Chicken with Rice, Jerk Chicken with Rice, Salt and Pepper Chicken Skewers, Seasoned Chicken Skewers, and Singapore Style Noodles with chicken and pork char siu.
The Iceland-exclusive collection of pre-prepared meals is designed to give fitness enthusiasts and health-conscious individuals a way to get their hands on foods that are clean, nutritious, and convenient. Myprotein has delivered precisely that in the meal-prep family, and we can't stress enough that it has done a great job on the selection, not just putting together a large number of options but offering a variety of formats and styles.
Myprotein's meal-prep products are available from Iceland's mountain of locations across the UK and website, and the 15 different options in the frozen food family are reasonably priced. The supermarket is selling the items for between £3.50 for the likes of the Three Bean Wrap up to £6 for the Salt and Pepper and Seasoned Chicken Skewers. Iceland is launching the series with a deal where you get any ten meals and a box of skewers for £45.