PharmaFreak has officially released the pre-workout it previewed a couple of months ago named Super Freak, although it has not been launched in a typical fashion. Currently, the brand is only selling the supplement through its online store in combination with the previously released energy and focus-supporting capsule formula Supersonic Freak at $59.99, plus you get a custom shaker bottle.
With Supersonic Freak built for energy and featuring a moderate dose of caffeine, PharmaFreak's Super Freak pre-workout is appropriately stimulant free and built specifically to support pumps and performance. It is sort of the other side to Supersonic Freak, as mentioned that increases energy and focus while Super Freak powers pumps and performance, with the two combining for a comprehensive pre-workout.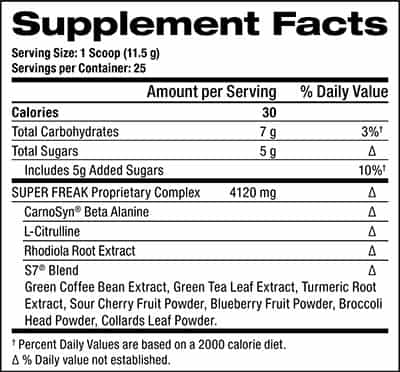 The list of ingredients in Super Freak is the same sort of length as Supersonic Freak, relying on four key components, all wrapped in a blend weighing in at 4.12g. The proprietary complex backing the newest PharmaFreak pre-workout brings together rhodiola, a light dose of pure citrulline, the S7 blend, and high-quality CarnoSyn beta-alanine, which is the highest-dosed ingredient in the 4.12g blend.
Once again, you can currently only purchase the stimulant-free Super Freak directly from PharmaFreak's online store in a bundle with the energizing Supersonic Freak and a shaker bottle at $59.99. We're not sure if the pump and performance-focused pre-workout will eventually be sold separately, but for now, the bundle is the way to go, with 25 full servings per tub in the one Strawberry Daiquiri flavor.