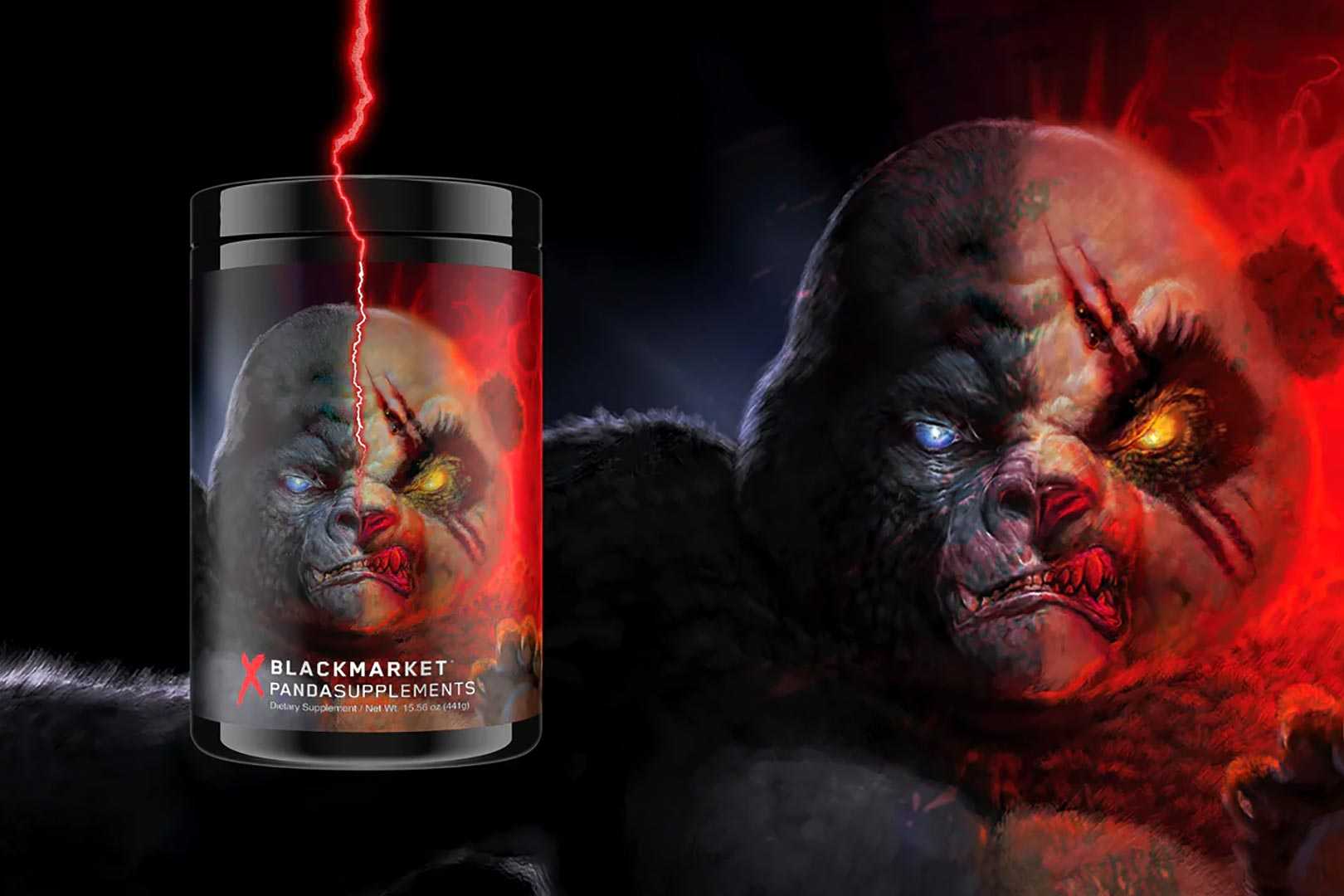 After plenty of teasers, sneak peeks, and previews, Panda Supplements and the original underground supplement company Black Market have completely unveiled their collaboration. There is no specific name for the product on the tub, although both reputable brands are referring to it as Panda Vs Gorilla, which does, of course fit, as those are the mascots of Panda and Black Market, and they're on the face of the supplement.
Panda Supplements and Black Market's collaboration, Panda Vs Gorilla, is a pre-workout, as predicted, and it is a loaded one. The companies have certainly brought the best of their formulating abilities together to create the supplement and loaded it with ingredients to support all of the core pre-workout benefits. It has several components each for energy, focus, pumps, and performance, making for a complete experience.
We've got the facts panel for Panda Vs Gorilla in the image below, led by a strong 10g of citrulline malate at a two-to-one citrulline to malic acid ratio, to enhance muscle pumps. Other significant highlights from the Panda Supplements and Black Market collaboration include 2.5g of betaine, 3.2g of the reliable beta-alanine for performance, 600mg of alpha-GPC for focus, and plenty on the stimulant side, including dendrobium, eria jarensis, and a strong 400mg of combined caffeine.
As mentioned, Panda Supplements and Black Market have certainly pulled together their talents for the Panda Vs Gorilla pre-workout. There are some features recognizable from each brand's own selection of pre-workouts, but it is mostly a product all on its own. The formula really does strike a nice balance of everything, with no area getting much more support than another, for an all-around performance in the gym.
Panda Vs Gorilla is available for pre-order from Panda Supplements and Black Market's online store, and while both brands are selling the same product, they don't have the same flavor. You'll pay $54.99 for a tub of 20 servings no matter which way you go, but if you visit Panda's website, you'll be buying the packed pre-workout in Bloody Peach Gummy, and if you go with Black Market, the flavor is something called Gorilla Rage.