Complete and comprehensive multivitamins or daily health supplements have become relatively popular over the past couple of years in the sports nutrition space, where companies bring together several types of health and wellness-style products into the one supplement. Jocko Wink's brand Jocko Fuel, is the latest to do that, and it does indeed bring together many different categories of ingredients into Jocko Timewar.
The first part of Jocko Fuel's Jocko Timewar is a blend of key vitamins and minerals to support general health and wellness, including the likes of 100mg of vitamin C, 50mcg of vitamin D, and 10mg of zinc. Premium Lutemax is in the mix, too, for eye health and vision support, 100mg of the nootropic alpha-GPC, and a blend dedicated to stress, including pomegranate, multi-benefit KSM-66 ashwagandha, and rhodiola.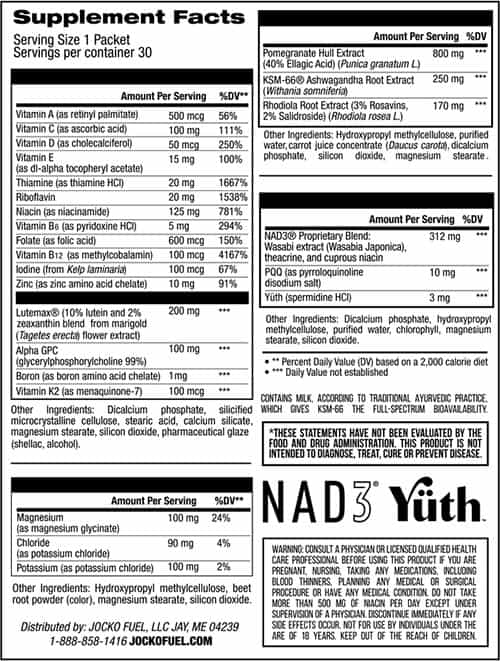 The final part of Jocko Timewar is the most interesting side of the health-focused supplement is a set of anti-aging and cellular health ingredients. It is made up of 10mg of pyrroloquinoline, better known as PQQ, and Yüth branded spermidine, promoted for its ability to support healthy aging by helping replace old cells with new ones. Lastly, there is the NAD3 blend, famously from the HPN product NAD+, which is a combination of wasabi, theacrine, and copper nicotinic acid to reduce cellular inflammation, improve mitochondrial function, and further support cell detoxification.
Jocko Fuel does deliver on its promise of a comprehensive daily health and wellness supplement, although if you're looking to switch to this from a regular multivitamin, the price is a big jump. Jocko Timewar directly through the brand's online store is an expensive $99.95 for a full month's supply. It's worth keeping in mind this is several products in one; in fact, HPN's standalone NAD3 formula NAD+ by itself costs $35.95.