This weekend, the popular and unique protein specialist Boba Tea Protein is bringing back the industry-first flavor of its pre-workout released on April Fools' Day, which went on to sell out in around half an hour. The flavor was Strawberry Soju, inspired by the alcoholic beverage Jinro Strawberry Soju from Korea, although something else that was very important about the product is that the flavor isn't the only different thing about it.
Boba Tea Protein's Strawberry Soju Pre-Workout features a formula quite a bit different from its original Pre-Workout, available in a Passion Fruit Green Tea and Lychee flavors. The formula powering the Strawberry Soju supplement is actually a premium variant called High Stim Pre-Workout. It has all of the same ingredients as the original, plus some impressive increased dosages and additions for that more premium pre-workout experience.
The main differences going from Boba Tea Protein's regular Pre-Workout to High Stim Pre-Workout include a third more citrulline and beta-alanine at 8g and 4.8g, respectively, double the GlycerSize glycerol and tyrosine to 2g each, 600mg of alpha-GPC up from 300, and 100mg more caffeine at 350. The brand has also added 150mg of elevATP and 50mg of Senactiv to power home performance, electrolytes, and 100mg of CognatiQ.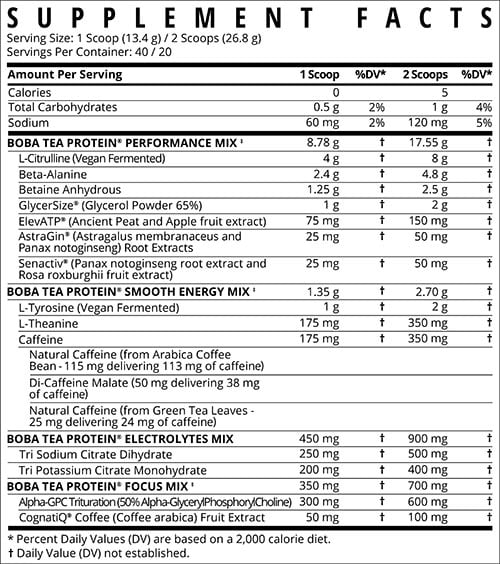 While the name of the supplement is "High Stim Pre-Workout", and there is indeed more caffeine in it, the spin-off pre-workout is a whole lot more than that. Boba Tea Protein has improved the dosages and variety of ingredients in the product for mental focus as well as pumps and performance. It should have no trouble delivering better in the gym, and work as a nice step up for fans wanting more from Boba Tea Protein's pre-workout.
Once again, Boba Tea Protein's special edition Strawberry Soju High Stim Pre-Workout is returning to its online store this coming weekend on Saturday, but if you don't want to miss out, get in as soon as it goes live at 1 PM Eastern Time, as it could sell out as quickly as the first time. The supplement is, of course, a bit more expensive than the regular Pre-Workout, up from $44.99 to $54.99 for the same 20 maximum servings a tub.