Bodybuilding.com has officially launched its all-new Elite Series, a selection of premium and advanced sports nutrition supplements, starting with the stimulant-free pre-workout Ultimate Pre. There are going to be more items in the collection, all with a similar approach to the well-put-together Ultimate Pre. The Elite Series will undoubtedly elevate the online retailer's own family of supplements, which has been around for a while.
Ultimate Pre from Bodybuilding.com's Elite Series is made up of six ingredients, all included to help you get a better workout and support a couple of the core pre-workout benefits. The components in the supplement really have Ultimate Pre focused on enhancing muscle pumps and improving performance and endurance. Being stimulant-free, it is without caffeine for energy, and it doesn't have any key focus ingredients either.
The complete combination of ingredients in Bodybuilding.com's Ultimate includes 2.5g of betaine, 2g of GlycerSize glycerol, 6g of citrulline, and a full 1.5g of premium and proven Nitrosigine delivering better muscle pumps. Then for performance, there is 3.2g of beta-alanine and one more branded component in Peak ATP, dosed at an effective 400mg a serving, making for a well-rounded pump and endurance-driven experience.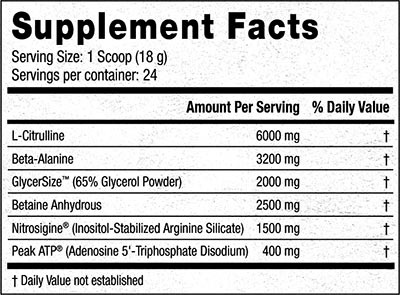 If the approach seen in Ultimate Pre is what we're getting for the rest of the Elite Series from Bodybuilding.com, we look forward to seeing the rest of the entries in the collection. The retailer and brand hasn't dosed anything low in its stimulantless pre-workout, it's made use of several reliable and proven ingredients, and kept the purpose of the supplement pretty clear in a pre-workout built for performance and pumps.
Bodybuilding.com is launching its first Elite Series product today through, of course, bodybuilding.com, with 20 maximum servings per tub and in the one Rocket Pop flavor. It is also worth noting the supplements in the lineup all start the premium experience from the outside. The brand has put extra effort into its labeling and produced some impressive designs that go beyond what you can see with an awesome all-over texture.