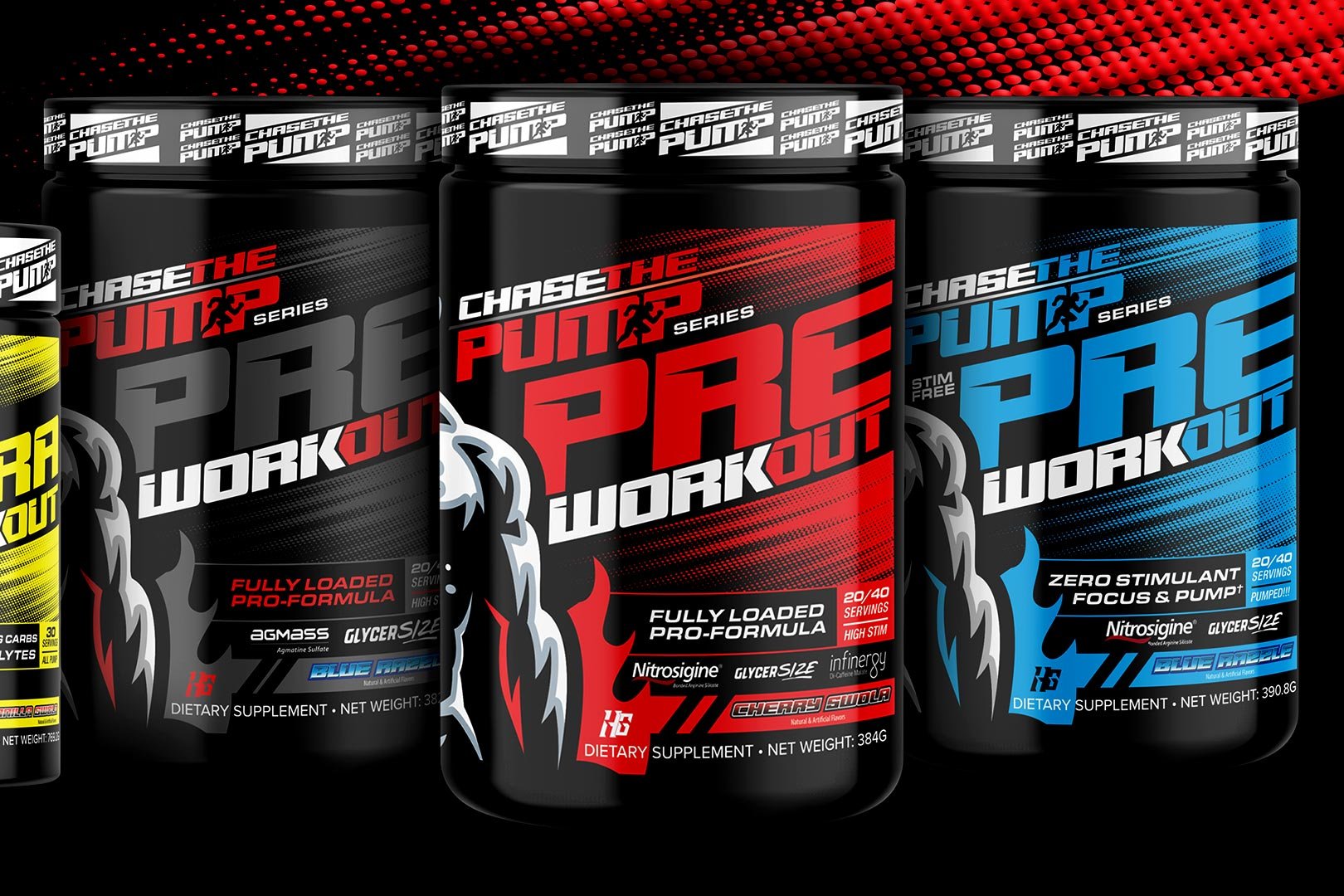 Chase The Pump is a fresh new brand from the reliable chain of retail stores and brand, House Of Gains, that recently dropped and is making noise with its initial set of five supplements. The newcomer has gone all out on workout-centric products, as all of them are for windows around your workout, with three being pre-workouts, one for use specifically during your workout, and the other is a stimulant-packed capsule formula.
As always, we like to judge the reliability of a brand on its flagship stimulant pre-workout, and for Chase The Pump, that supplement is simply named Pre-Workout. It is loaded with ingredients to support all of the core benefits, including a few premium components such as GlycerSize glycerol and Nitrosigine to power pumps, and Infinergy, which goes alongside 350mg of caffeine anhydrous for a total of around 450mg of caffeine.
We've got the facts panel for Chase The Pump Pre-Workout in the image above, with other key ingredients in the supplement being 8g of citrulline malate, 3g of beta-alanine, half a gram of alpha-GPC to enhance mental focus, 2g of creatine monohydrate, and yohimbine to ensure it packs a punch. While Pre-Workout is a mostly reasonably dosed product with a well-rounded formula, as mentioned, the brand has two other pre-workouts for different types of experiences.
On top of Pre-Workout, Chase The Pump also has Stim-Free Pre, featuring all of the same main ingredients as Pre-Workout, minus the stimulating components of caffeine, Infinergy, synephrine, and yohimbine. There is also Blackout Pre, which, as you could probably gather from the name, is a more extreme and intense supplement featuring the same amount of caffeine but mixed with other potent stimulants for stronger energy and focus.
For a closer look at everything Chase The Pump has to offer, head to its online store, chasethepumps.com, where you'll find all of the supplements listed with their specific details from the pre-workouts Stim-Free Pre, Blackout Pre, and Pre-Workout to the carbohydrate-powered Intra and Stim Caps. The products are reasonably priced with Stim Caps at $39.99, Intra $44.99, Pre-Workout and Stim-Free $49.99, and Blackout Pre at $54.99.