Bull Nutrition is a growing supplement company out of Canada that has been on the market for a bit but has just stepped up its game with the release of a fully dosed pre-workout by the name of 12 Strong. If you're wondering where the name comes from, it's directly connected to the formula, as the brand has precisely brought together 12 main ingredients for 12 Strong to support all of the core pre-workout benefits and effects.
The serving size of Bull Nutrition's 12 Strong is a big one at 36g, although most of that comes from the one key component in glycerol at a huge 10g, which is not a dose we recall seeing in a powder format pre-workout. The glycerol is there to power the pump portion of the supplement's experience, with a couple of other known pump-enhancing ingredients, such as pure citrulline at a solid 6g and betaine anhydrous at a respectable 2g.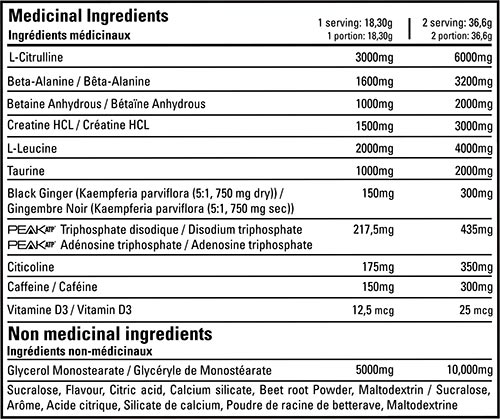 Other features of the newly released 12 Strong pre-workout from Bull Nutrition include 2g of taurine, 3g of creatine HCl, 3.2g of beta-alanine, and 435mg of premium and proven PeakATP to support power and performance. Driving the more sensory energy and focus effects of the product is 350mg of citicoline and 300mg of caffeine, and for a little bit of uniqueness, there is a sizeable 4g of the recovery-supporting BCAA, leucine.
Like all newcomers these days, or even sports nutrition companies in general, you can purchase anything from Bull Nutrition directly from its online store at bullnutrition.com, including its latest entry into the competitive pre-workout market, 12 Strong. The price tag on the brand's energy, focus, pump, performance, and recovery-supporting supplement is higher than most, even premium competitors, at $69.99 for a tub of 20 full servings.