Noo-HYPE is currently gearing up for the relaunch of its nootropic-driven pre-workout Psychic Warfare, refreshed with a new and improved formula to drive an energy and focus-heavy experience. The brand has added several premium components for the revamped Psychic Warfare, and on top of all of that, there is a new flavor on the menu of the supplement, with Cotton Candy, joining originals like Melon Berry, Taste Like Candy, and Punchsicle.
We've got the facts panel for the update and upcoming Psychic Warfare directly below, and you can clearly see why it's referred to as a nootropic pre-workout, as the majority of its formula is filled with ingredients to increase energy and enhance focus. To be fair, there are a few components for non-sensory benefits in the classic beta-alanine at a full 3.2g to improve performance and endurance, and a blend of electrolytes to support hydration.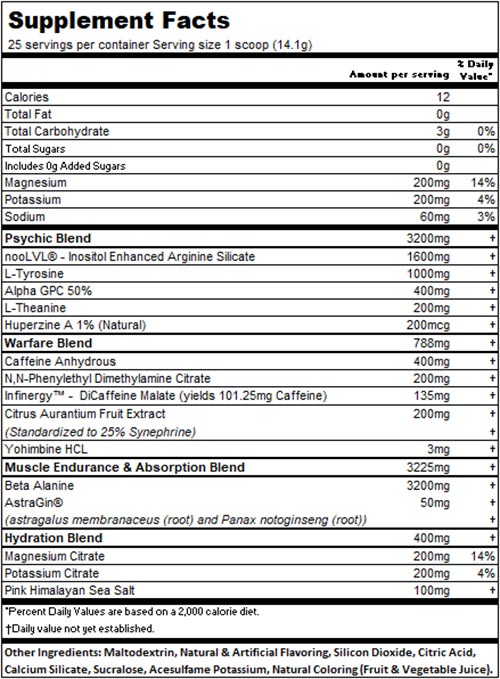 Moving on to all of the features taking care of the energy and focus portion of Noo-HYPE's Psychic Warfare, there is 200mg of eria jarensis, 200mg of theanine, 400mg of alpha-GPC, 200mg of citrus aurantium, and 3mg of the hard-hitting yohimbine. To elevate the experience even further, the brand has added the premium and proven, and typically gaming ingredient NooLVL at its complete dose of 1.6g, and a genuinely intense 501mg of caffeine; 400mg from anhydrous and the rest Infinergy di-caffeine malate.
Noo-HYPE's new and improved Psychic Warfare nootropic pre-workout is going to be available for purchase shortly, with availability first through the brand's own online store at noo-hype.com. The supplement is extremely reasonably priced directly from Noo-HYPE's website at $36.99 for a tub of 25 servings, so more than the common 40 regular and 20 maximum serving split, with five flavors to choose from, including the new Cotton Candy.