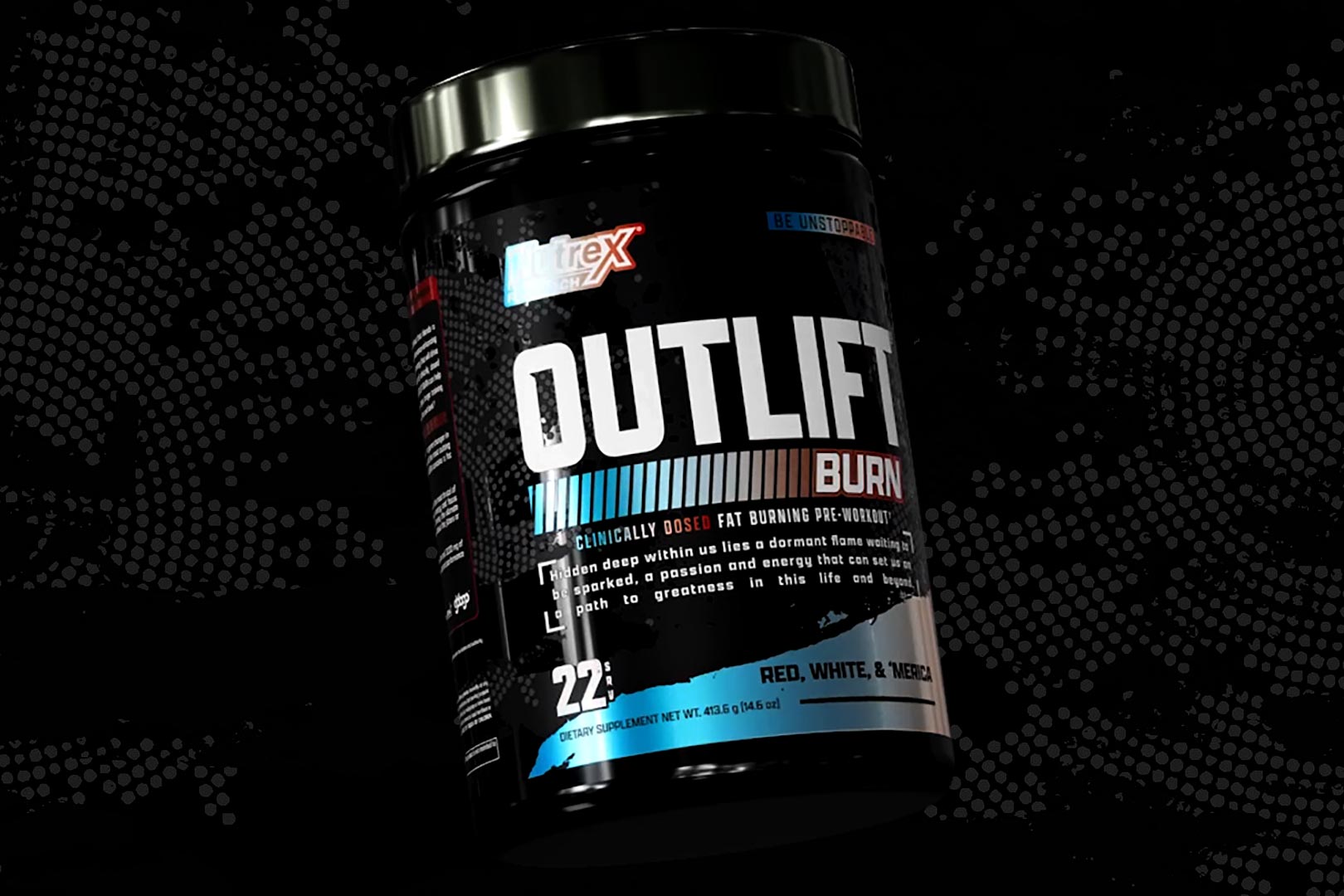 Nutrex has completely revealed and released its previously previewed fat-burning pre-workout Outlift Burn, which is indeed a combination of those two supplement types. The legacy sports nutrition brand has brought together ingredients to support several pre-workout benefits like increased energy, focus, and performance, as well as components for weight loss effects such as enhanced thermogenesis, metabolism, and fat loss.
Where to buy Outlift Burn
You can purchase Outlift Burn directly through Nutrex's online store at $49.99, currently making it the most expensive competitor the brand has in the saturated category, at 66% more than Hemo-Rage Unleashed and $5 above the fully dosed Outlift. That $49.99 gets you a tub of 22 servings, two more than the common 20 and one over Glaxon's signature 21 servings, in two flavors named Maui Twist and Red, White & 'Merica.
Robust hybrid pre-workout
We've got the formula powering Nutrex's hybrid pre-workout Outlift Burn in the image below, and as you can see, you do get that two-category approach with several ingredients commonly used in a pre-workout and reliable components to help burn fat. Not matter how you look at it, the brand has done a good job at crafting a robust formula instead of just throwing in a couple of features to support each side and sprinkling in light dosages.
Filling up the pre-workout side of Nutrex's Outlift Burn is 6g of pure citrulline for pumps, 3.2g of beta-alanine driving performance, then the energy and focus ingredients with 600mg of alpha-GPC, a gram of acetyl-l-carnitine, and 2g of tyrosine. It wouldn't be a solid pre-workout or fat burner without a bit of caffeine, and that is in there at a combined 350mg from a transparent blend of 300mg of anhydrous and the rest di-caffeine malate.
Weight loss ingredients
Making up the other half of the hybrid pre-workout, Nutrex has mostly premium ingredients, including one making its industry debut. There is 100mg of Cocoabuterol, 30mg of sweat-inducing GBBGo, 1.5mg of alpha yohimbine, and 40mg of Calorburn GP grains of paradise. Last but not least, Nutrex has included patent-pending Metabolyte; which is an electrolyte bound to dodecanedioic acid, promoted as fat-burning electrolytes.
Dodecanedioic acid is there for its ability to encourage your body to use fat for fuel, improving weight loss in a way that you won't find in any other major supplement, and you get the electrolytes to support hydration and performance. If Nutrex was looking to make a statement with Outlift Burn, it most certainly has, as this is a standout supplement in many ways, from the comprehensive approach to two categories in a single product plus the introduction of the promising patent-pending Metabolyte.