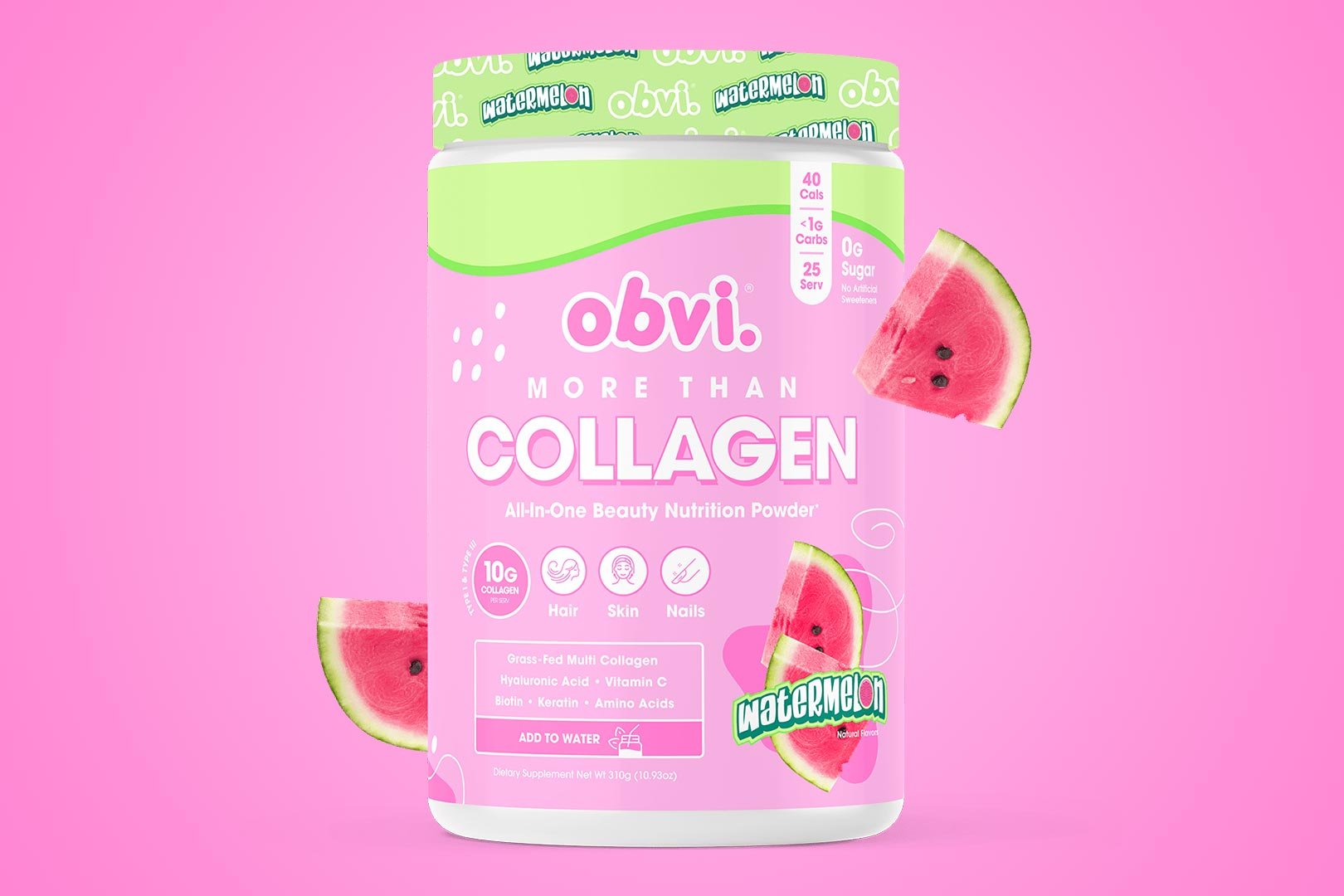 Obvi, winner of our Brand Of The Year award in 2021 alongside hardcore supplement company Apollon Nutrition and premium sports nutrition specialist Glaxon, is moving into the thousands of Walmart locations beginning next month. It's a massive undertaking and expansion for the pink-colored collagen-centric brand, and now it's shared a bit more about what you're going to find from Obvi in more than 4,000 Walmart stores.
The supplement Obvi plans on launching in the retail giant is not its signature Super Collagen Protein; it is a slightly different item that goes by the name More Than Collagen. The main ingredient in the product is still collagen to support healthy hair, skin and nails, with 10g of hydrolyzed bovine collagen a serving, providing 9g of protein and 40 calories. True to the title, there are other ingredients outside of collagen in the supplement, but not the same as Super Collagen Protein.
Obvi has reinforced More Than Collagen with added vitamins, although not as many as you get in the currently available Super Collagen Protein. The brand has thrown in vitamin C and biotin at 90mg and 100mcg, respectively, and two ingredients you won't find in other Obvi collagen products with 50mg of hydrolyzed keratin and a respectable 100mg of the commonly used beauty and joint health-supporting hyaluronic acid.
Once again, Obvi is rolling out More Than Collagen in Walmart next month in a refreshing Watermelon flavor with fewer servings per tub than Super Collagen Protein at 25 instead of 30. You'll also notice by looking at images of the supplement, More Than Collagen and its multi-benefit formula is bringing a refreshed look and feel to the brand. Obvi has rightfully kept pink as the primary color, but at a lighter tone and mixed up the display of details a little bit.