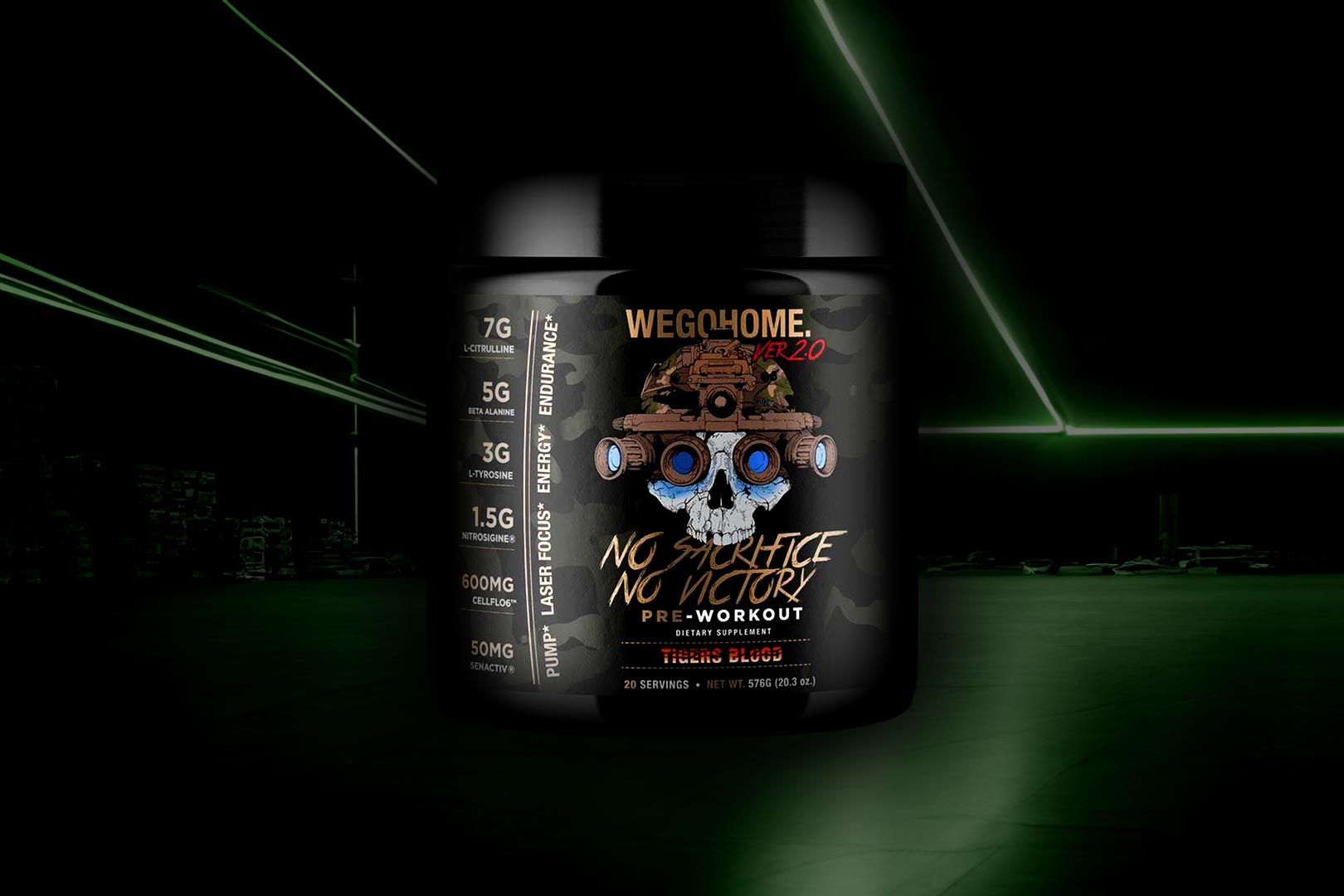 We Go Home Supplements is getting ready to unleash a new version, or technically versions, of its first-ever product in the comprehensive pre-workout, No Sacrifice No Victory. The sequel to the supplement is appropriately named No Sacrifice No Victory 2.0, and there are several changes in the formula to make for an even better experience in the gym, and there is a twist; as mentioned, there separate versions this time around.
The upcoming No Sacrifice No Victory 2.0 is still built for a comprehensive blend of benefits, so similar to its predecessor, but the ingredients and dosages have been ramped up to offer something bigger and better, as you'd expect with "2.0" in the title. The reputable brand has genuinely pumped up the pump side of things, switching to pure citrulline at a much higher amount of 7g a serving alongside an effective 1.5g of Nitrosigine, a gram of agmatine, 2.5g of betaine, and 600mg of premium CellFlo6.
Driving the performance portion of We Go Home Supplements' No Sacrifice No Victory 2.0 is a huge 5g of beta-alanine, a lot more than the usual 3.2g or even the 4g we've seen from time to time, plus a full 50mg of Nuliv's premium and proven Senactiv. Filling out the last half of the formula are all of the pre-workout's energy and focus components, including 3g of tyrosine, 150mg of theobromine, a gram of choline bitartrate, huperzine A at 200mcg, and a combined 360mg of caffeine.
The twist, as touched on earlier, is that alongside We Go Home Supplements' regular No Sacrifice No Victory 2.0 that we've got the facts panel for you above; there is going to be a stimulant-free alternative. The formula behind that is exactly the same as the one packing 360mg of caffeine, but, being stimulant-free, there won't be any caffeine at all, as well as no theobromine, but every other ingredient and dosage is the same.
Judging by the formula, We Go Home Supplements has stepped things up in all areas, making for a powerhouse replacement that fans of the previous No Sacrifice No Victory will undoubtedly enjoy and then some. The brand is planning to launch its sequel pre-workout early next month, so in about a week, and if it's anything like its predecessor, it'll cost $59.99, and it's coming in Tiger's Blood, Llamacorn, and Spicy Mangonada flavors.