To start the month of August, on Thursday the 3rd of August, Xtremis Cartel, previously known as ASC Supplements, is relaunching a revamped version of one of the products it had yet to bring over to the newly named brand in El Jefe. This is separate from the special edition El Jefe Guerilla; it's more a regular, standard El Jefe, although don't let that fool you, as Xtremis Cartel has brought the house on this one and packed out the formula.
Like all good comprehensive competitors in the pre-workout category, Xtremis Cartel's El Jefe is built to support all of the core benefits, but a lot of the ingredients filling out the formula are on the sensory side to increase and enhance energy and focus. There is also a fair amount of support for muscle pumps and a little less for performance by way of the ever-present beta-alanine, with 25% above the usual 3.2g at 4g.
Helping out on the pump side of things in the Xtremis Cartel version of El Jefe is a huge 8g of pure citrulline, 300mg of norvaline, 3g of betaine, and a premium ingredient with AmentoPump at 200mg a serving. Then you the stimulating side of the pre-workout, and this is where you get the signature El Jefe punch, packed full of highlights including choline bitartrate at a rarely seen 1.5g, 3mg of yohimbine and 2mg of alpha yohimbine, 150mg of halostachine, a potent half a gram of EriaPuro eria jarenesis, and just over 400mg of combined caffeine.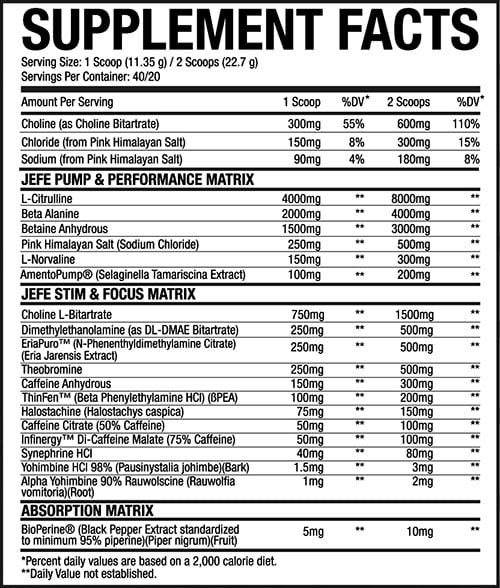 The synergistic energy and focus portion of the pre-workout experience has always been strong in ASC Supplements' various iterations and spin-offs of El Jefe, and that reputation looks to continue under the banner of Xtremis Cartel. As mentioned, while the stimulating section of the pre-workout is undoubtedly a strong part of the supplement, there is a lot in there to noticeably enhance muscle pumps, all in the one product.
Once again, Xtremis Cartel is releasing the promising 2023 edition of its El Jefe pre-workout this coming Thursday, in about five days, directly through its online store over at xtremiscartel.com. The price for the supplement has not been shared yet, but with 20 maximum servings a bottle and the loaded formula it has, we imagine it sitting around the brand's usual premium range, and it'll have two flavors to choose from in Peach Rings and Sour Gummy Bears.