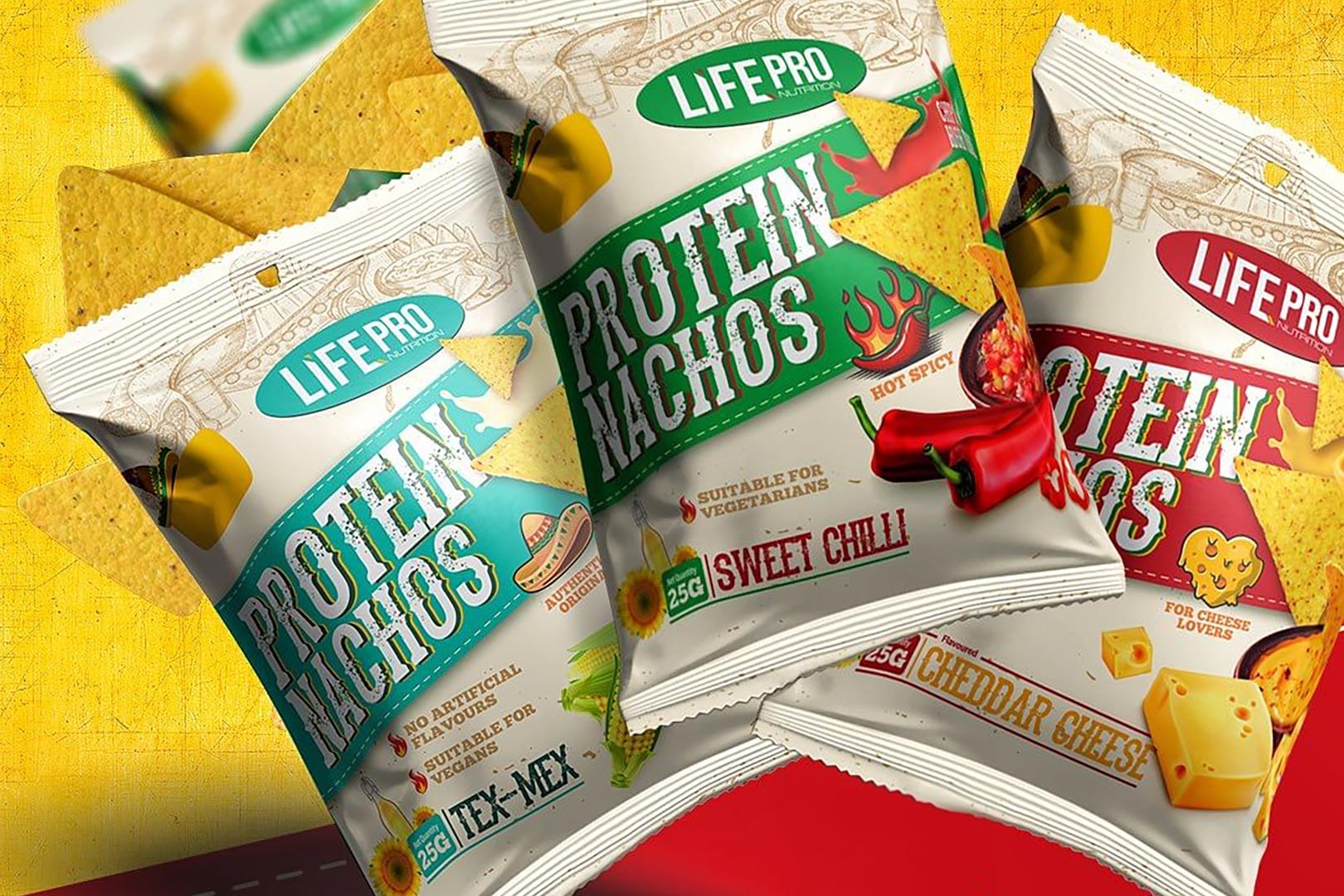 Life Pro Nutrition in Spain is one of the busier sports nutrition and functional food companies on the market, bringing something new to its fans and followers on an impressive monthly basis, if not more frequently. Here in September, the busy brand has introduced another protein-packed snack, and it is a relatively obviously titled offering in Protein Nachos, which is indeed a bag of tortilla chips that are high in protein.
The nutrition profile of Life Pro Nutrition's Protein Nachos is pretty impressive, coming in closer to a lean protein powder than your traditional protein bar. Every moderately-sized 25g bag of the product provides 11.2g of protein, primarily from soy protein, alongside 2.6g of fat, and 4.9g of carbohydrates, almost none of that being sugar at only 200mg, keeping the calorie count of the chip-style snack in the double digits at 96.
To complete the experience of the Protein Nachos, Life Pro Nutrition has paired the protein food with an extension of its low-calorie functional condiment family, SauZero with SauZero Dip Sauce, to drop the tortilla chips into for extra flavor and also without too much guilt. The macros on about 20g of the better-for-you dip are 200mg each of protein and fat, 800mg of carbohydrates, only 200mg of sugar, and just six calories.
Life Pro Nutrition's Protein Nachos come in three flavors, all classic tortilla chip tastes in Cheddar Cheese, Sweet Chili, and Tex Mex, while the SauZero Dip Sauce is available in five with Cheddar, Cheddar Jalapeno, Cheddar Bacon, Sour Cream, and Mexican. As always, you can grab the latest from the brand through its online store for some incredibly low prices of €1.75 for a bag of the Protein Nachos and €4.50 for a jar of the dip.