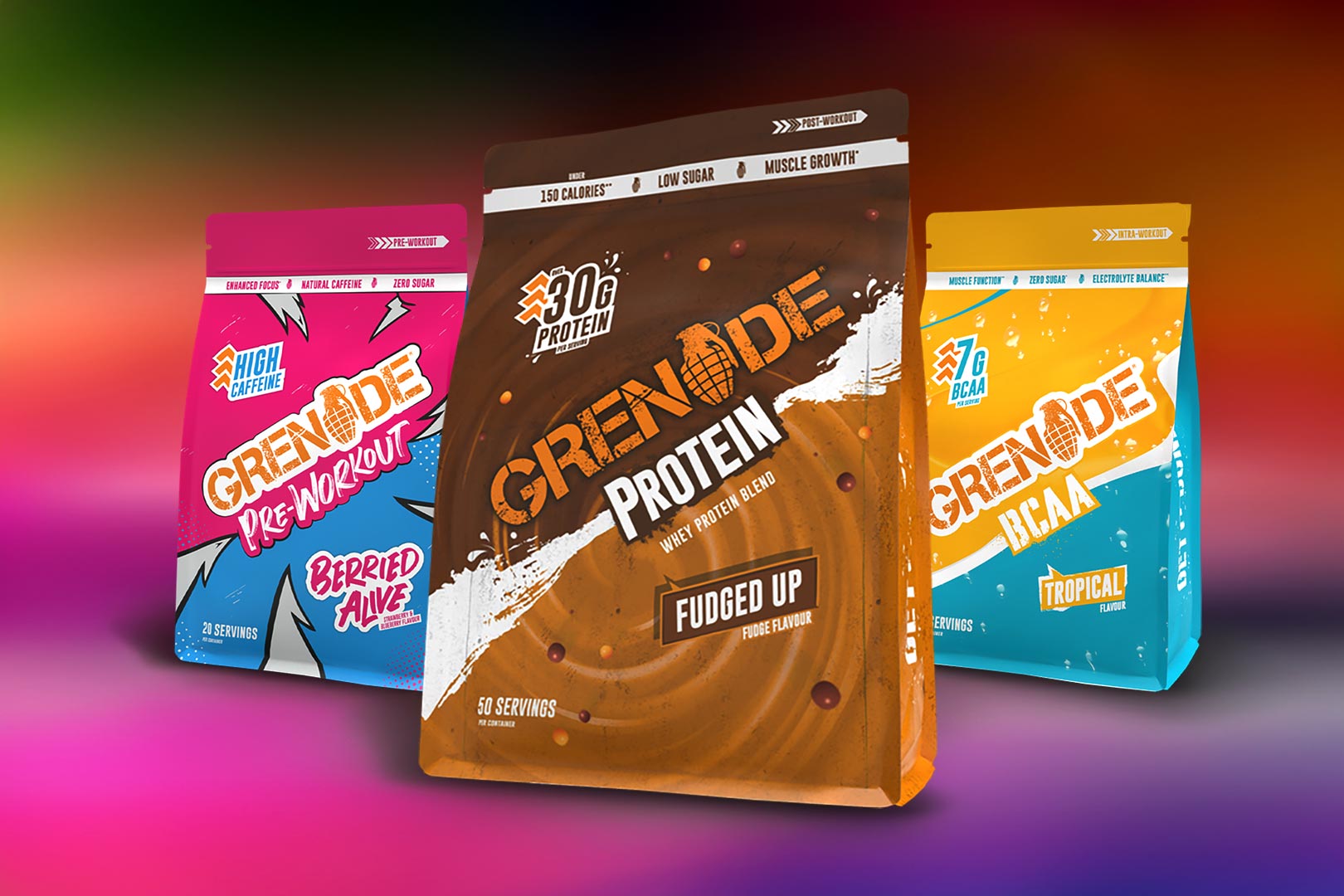 The innovator of the legendary protein snack, the Grenade Protein Bar, originally the Carb Killa Protein Bar, started its journey in the world of sports nutrition with a Grenade-shaped fat burner called Thermo Detonator, hence the name Grenade. It expanded beyond that debut supplement into other categories with different versions of Thermo Detonator, the testosterone booster AT4, BCAAs, creatine, and even protein powder with its fully transparent 50/50 competitor Hydra 6.
Grenade has always had a hand in the sports nutrition, but with the rise in popularity and reach of the Grenade Protein Bar, it has distanced itself. The brand is getting back into that world more here at the end of 2023 with the launch of three completely new supplements in Grenade Pre-Workout, Grenade Whey Protein, and Grenade BCAA; each of them features a relatively straightforward formula for its respective category.
Grenade Pre-Workout
Grenade Pre-Workout brings together a reliable set of ingredients at some respectable dosages, including 6g of citrulline malate for pumps, half a gram of taurine, electrolytes for hydration, 2g of tyrosine for focus, 1.5g of betaine, and 2.5g of beta-alanine driving performance. The ever-popular pre-workout component caffeine is in there too, and at a rather low 180mg.
Grenade BCAA and Whey Protein
Next, you have Grenade Whey Protein, a traditional protein powder featuring a blend of whey concentrate and whey isolate to provide 30g of protein a serving, 2g or less of carbohydrates and fat, and 147 calories, with DigeZyme enzymes also in there to improve digestion. Last but not least is Grenade BCAA, packed with 6.2g of BCAAs to support muscle recovery, an odd 900mg of glutamine, and half a gram of coconut water.
Where to buy
As mentioned, Grenade Pre-Workout, Grenade Whey Protein, and Grenade BCAA are relatively basic in terms of formula but a fitting addition to the extensive reach of the legendarily delicious Grenade Protein Bar. The simplicity of the products is reflected in their prices, with Pre-Workout and BCAA sitting around £27 (32.78 USD) in multiple flavors and Whey Protein at £54.99 (66.77 USD) for a large 4.4lb bag. One of the first places you can get all of the Grenade products is the reliable Protein Pick & Mix, which ships globally.