HD Muscle's supplement collaboration with premier athlete Nick Walker, who is getting on stage next week for this year's Mr. Olympia competition, has been unveiled, and it consists of two pre-workouts that are unlike any of the brand's others it has on the market in PreHD Elite, PreHD Ultra, or PreHD Black. The products are referred to as PreHD Variant 001 and PreHD Variant 002; the former is a stimulant pre-workout, and the latter is stimulant-free.
Choice of energy or focus
Both of HD Muscle and Nick Walker's supplements have a variety of ingredients to deliver a specific set of benefits; again, PreHD Variant 001 does it with stimulants and PreHD Variant 002 without. Interestingly, they mostly have the same core components for effects that aren't energy or focus-related, including a huge 11g of pure citrulline for pumps, 5g each of betaine and CreaPure creatine monohydrate for strength and power, 4g of beta-alanine, and the premium pump components Nitrosigine and VasoDrive at 1.5g and 508mg, respectively.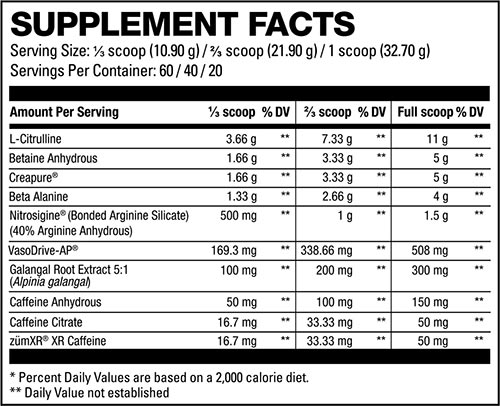 Where the two pre-workouts from HD Muscle and Nick Walker differ is in the area of energy and focus. For PreHD Variant 001 (facts panel above), all of the above is alongside the premium stimulant enXtra at 300mg in a maximum serving and a moderate 250mg of combined caffeine from anhydrous, citrate, and ZumXR. As for PreHD Variant 002 (facts panel below), instead of energizing ingredients, you get all focus with 2g of tyrosine, 750mg of alpha-GPC, and a gram of choline bitartrate.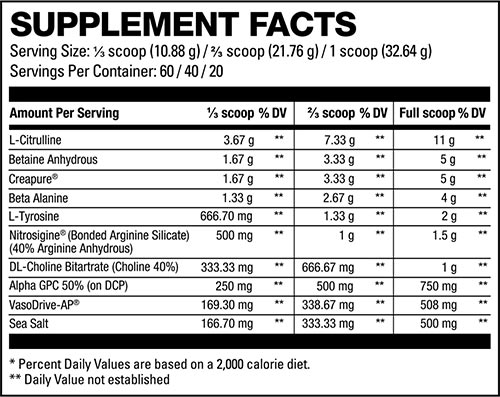 PreHD Variant 001 vs 002
Basically, with HD Muscle and Nick Walker's PreHD Variant 001 and PreHD Variant 002 pre-workouts, it comes down to whether or not you want energy, or no energy and enhanced focus and mental drive. It's certainly an interesting approach, especially since Variant 001 isn't overly intense on the stimulants, especially next to the brand's own PreHD Black. Either way, HD Muscle makes the difference loud and clear keeping all of the pump, performance, and strength features the same across the two supplements.
Launch details
HD Muscle is looking to launch PreHD Variant 001 and PreHD Variant 002 shortly through its official online store at hdmuscle.com. Regardless of which of the two Nick Walker pre-workouts you decide to go with, they both have 20 maximum, 40 moderate, or 60 basic servings per tub, and carry a price of $59.99 each. They do have their own individual flavors, with the stimulating PreHD Variant 001 in Purple Popsicle and PreHD Variant 002 comes in Apple Grape.