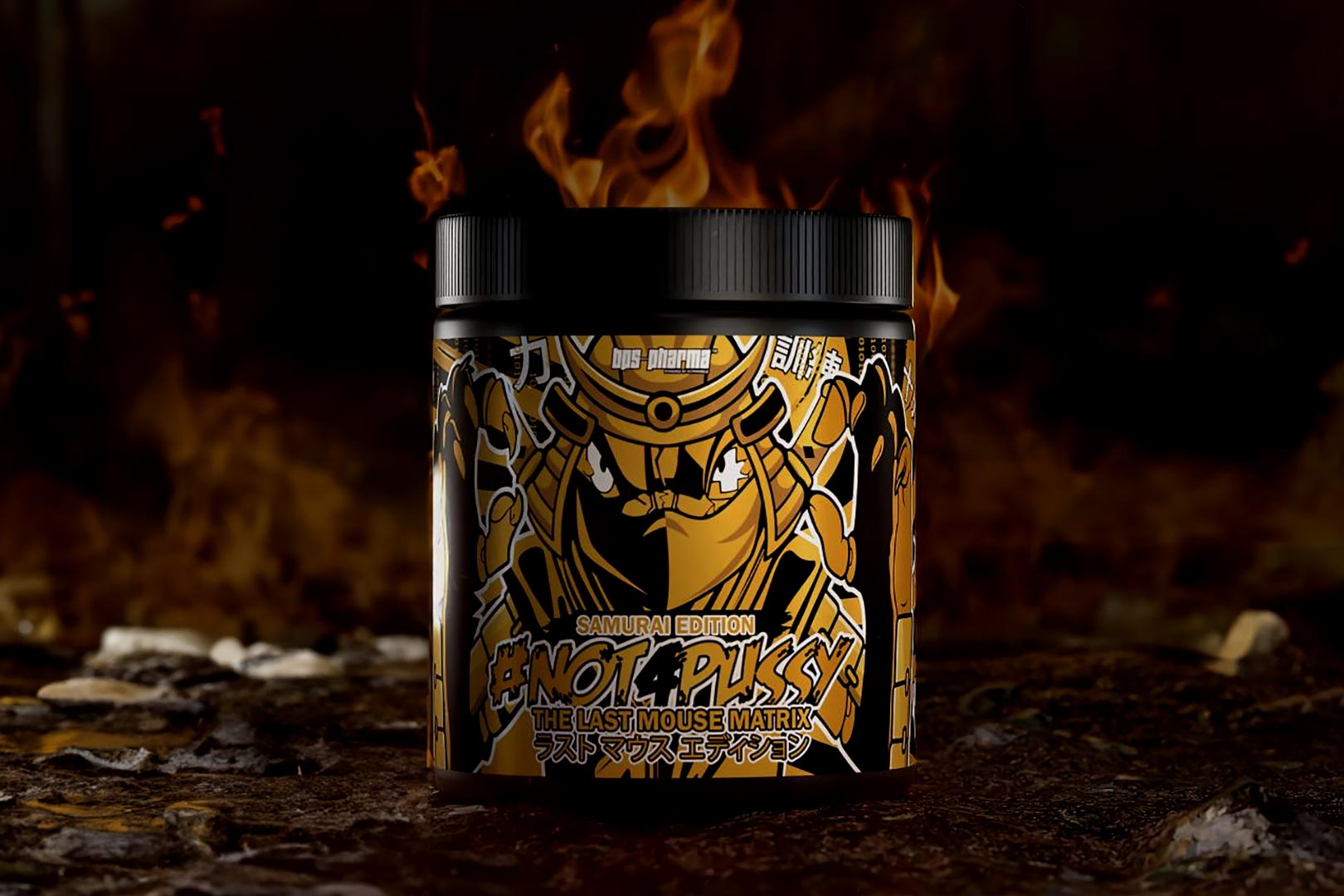 BPS Pharma, the long-running German supplement company behind the reputable family of pre-workouts that go by the unforgettable name of Not4Pussy, has dropped its latest entry in that line with Not4Pussy Samurai Edition. The brand has produced all sorts of variants and iterations of the product throughout the years, the majority of them focusing on delivering intense energy and focus, and that is the case here.
The all-new Not4Pussy Samurai Edition from BPS Pharma does offer a bit of support for pumps, performance, and strength, but there isn't a lot with a combined 4g of agmatine sulfate, citrulline malate, ribose, ALA, and creatine HCl. Those ingredients are certainly reliable when it comes to a pre-workout, although they're only in a 4g blend, which is not a lot considering most highly-effective pre-workouts dose the likes of citrulline malate at 6g and agmatine 1 to 2g, doubling that proprietary blend weight.
As mentioned, BPS Pharma is known for powering its pre-workout experiences with potent energy and focus, and again, that is present here in Not4Pussy Samurai Edition with another two non-transparent blends. For energy, there is a 3.2g combination of alpha-GPC, caffeine, coQ10, inositol, bitter orange, St. John's Wort, and pine bark. There is also a more focus-centered blend with 800mg of n-acetyl-l-tyrosine, green tea, acetyl-l-tyramine, grains of paradise, citicoline, acetyl-l-carnitine, and hawthorn berry.
It's been a while since we've seen this many proprietary blends in a supplement, but even though we aren't told the exact dose of anything in Not4Pussy Samurai Edition, it does indeed look like it'll pack a punch, especially in that 3.2g blend with alpha-GPC and caffeine as the two heaviest components. We would've liked to see some transparency since that is the common way to go these days; however, BPS Pharma does have a reputation, and it looks like it's leaning on that in this product.
You can purchase BPS Pharma's all-new Not4Pussy Samurai Edition straight from its online store, and you're probably not going to like the price, especially with all of those blends and clearly not overly huge dosages in the area of pumps and performance. The pre-workout comes at a cost of €53.90 (57.94 USD), definitely something on the premium side, for a tub of 22 maximum servings in a Peached Painful Passion flavor.