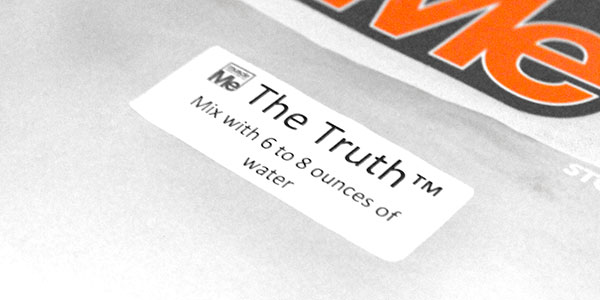 The Truth is Muscle Elements upcoming protein powder, which was announced in combination with the brand's Truth Standard initiative. Muscle Elements did say it would be this month that the product would be available, so we figured now would be as good a time as any to put together a pre-release review of The Truth. We have been fortunate enough to get a sample of both flavors of the supplement in vanilla wafer and chocolate bar, with just two servings of each, the perfect amount for a taste test. Being a protein powder usually there isn't much else we can say about a product outside of it's taste, with The Truth however as some followers will know, the supplements stands for a lot more than your average protein.
The key thing to remember about Muscle Elements The Truth is that there is more to it than taste, price and macros. While we are going to be breaking down each of the supplement's two flavors here today, and letting you know what you're in for. The Truth is a one of a kind protein powder, aiming to stand above the rest and lead by example. The unique product lists doses of each of it's protein sources, something only one other supplement does. As well as feature a lengthy line of highlights listing no hormones, no amino spiking, no blends. No artificial colors, flavors or sweeteners, and to top it off The Truth is all natural. Muscle Elements are really trying to send a message with this one, attempting to re-educate consumers about what a top quality protein is. Time will of course tell if the brand's effort has any impact on what people look for and what the competition does, but as for today we're going to do our best to communicate what The Truth tastes like.
Up first we have vanilla wafer, which based on it's smell seems like any ordinary take on the flavor. Unfortunately if you're expecting the taste to match the scent, on your first sip you will be quite surprised. While we aren't fans of vanilla proteins, we've been through enough and experienced our fair share of the good and the bad. The Truth's vanilla definitely doesn't fall into the five star range, or necessarily under the 'absolutely disgusting' header, it's really a bit of both. It's a very sweet steady vanilla effort that at times can seem a little off and somewhat sour, although alternatively on point and as good as your average vanilla flavor. If you are someone who is on the side of it being a bit sour, we did find a way to customize it to your liking. The more you of course dilute the formula the smoother the taste becomes, however don't be afraid to go too far thinking you'll lose the flavor altogether. We found the heavier the dilution the more plain the vanilla became, as whether you like the sweetness or not it will fade but maintain it's vanilla base throughout so you're not left tasteless from start to finish.
Moving on to the one we're a lot more excited about, we have The Truth's chocolate bar. The thing about this one is that like the vanilla it does come at you with a bit of a sweetness, it then however eases out into a delicious after taste. At first it seems like your usual chocolate, a little bit thinner than others, but still undeniably chocolate. The flavor then moves into what we can only describe as true to it's name, with an incredible combination of signature Truth sweetness and consistency. The thing about the consistency is that not only does it keep a good amount of taste flowing from beginning to end, it also carries that heightened sweetness right the way through. The best comparison to something non supplement related would basically be a melted chocolate bar with a bit of water. The liquid it's mixed with does play a major part, so if you're actually a milk person, get ready to sit back and enjoy something that you won't even believe to be healthy. Alternatively if you're like us and just use water, regardless of how good The Truth is with milk, you're in for an equally good experience. We do feel the product is a little sweeter with water, as it brings out that chocolate bar like sweetness a lot more, making it one of the closest efforts to the real deal we've ever come across.
As far as flavors go we have to say Muscle Elements get a tick for both vanilla wafer and chocolate bar The Truth. If it wasn't obvious from our description we do of course believe chocolate to be the better option. But when you factor in everything the brand have going on in the supplement, as mentioned earlier there is more to The Truth than taste, price and macros. Being all natural and free of the many things the product is, it's impressive for the protein to be better than bearable let alone as amazing as chocolate bar. While vanilla wafer definitely doesn't sit up there with our favorite takes on the flavor, Muscle Elements fans should have no problem welcoming The Truth into their diet with both tastes featuring a signature sweetness that's not easy to forget.