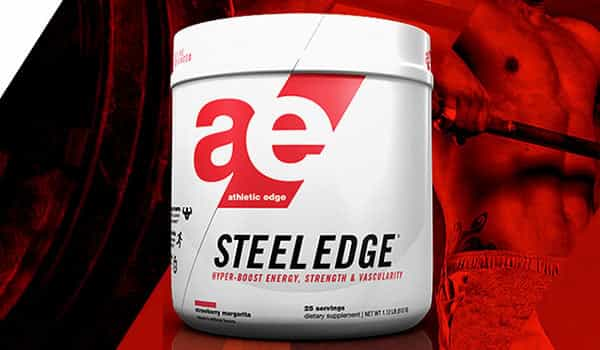 Following on from the official launch of Athletic Edge's all new website just yesterday, which brought with it details on the brand's third APE Series supplement APE Libido. The new pre-workout Athletic Edge SteelEdge has also now started showing up in stores.
Previously it was listed as coming soon at the likes of Muscle & Strength and Bodybuilding.com, who have both switched the product to in stock. Regardless of which one of the two stores you go to, you will be paying the same price at $29.99 for a full size 25 serving tub. The two unfortunately don't have the same flavors available as Muscle & Strength are stocking Athletic Edge SteelEdge in both fruit punch and the slightly less traditional strawberry margarita, with BB.com currently only listing fruit punch.
If you caught yesterday's post on Athletic Edge's new website you may have noticed that we mentioned the price on APE Libido isn't that bad for a purchase straight from the brand. Strangely enough that is also the case for most of Athletic Edge's supplements on their site as even SteelEdge is $29.99, exactly the same as Muscle & Strength and BB.com. At the end of the day the choice is yours, either way another new pre-workout is now available.