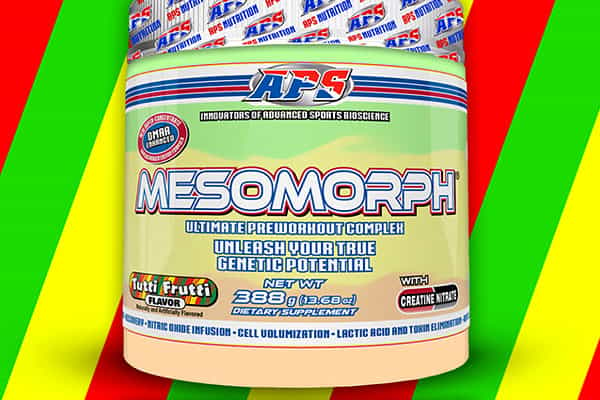 APS Nutrition has decided to expand on its pre-workout menu this week with another option for its DMAA infused Mesomorph. The supplement can already be found in quite the variety of flavors, one of which is the unique color divided Rocket Pop. Coincidentally that is exactly the kind of option APS has put together as its seventh with Tutti Frutti Mesomorph.
If you look at the image above you can see that Tutti Frutti is exactly like Rocket Pop Mesomorph, with its powder sitting in the tub in layers of color. As for the flavor, we've actually only seen one other brand attempt the Tutti Frutti taste and that is 4+ Nutrition with its pre-workout Ante+. Being an Italian brand however we don't imagine its take is anything like APS Nutrition's.
Anyone interested in trying the new Tutti Frutti Mesomorph can already pick it up direct from the brand's website for its usual price of $64.95.