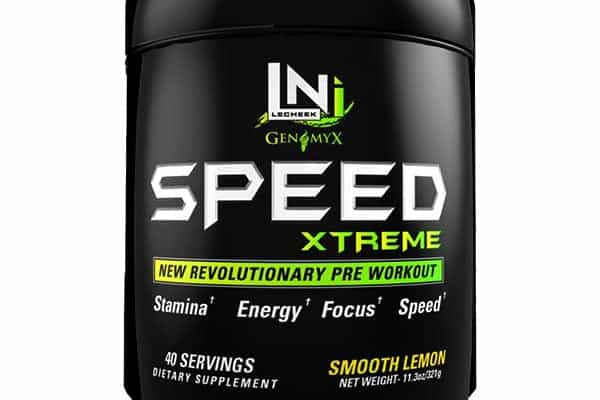 Something both interesting and confusing has popped up from Lecheek Nutrition this week, which we don't quite know what to make of. The last time we actually checked in with the brand it confirmed that like most, it is bringing back one of its previous pre-workouts. The supplement it plans on resurrecting is none other than Speed Xtreme, although Lecheek hasn't said what version just yet. That announcement does directly relate to the latest update from the brand, as it has released a look at an all new Speed Xtreme.
You can see a preview of the resurrected pre-workout in the image above, which features the name Speed Xtreme, and the product's effects with energy, focus, stamina, and speed. Those details are all very exciting, however as mentioned earlier the news from Lecheek is quite confusing. Where the supplement loses us a bit is when you take a closer look at the Lecheek logo above the title. You'll notice that squeezed in between the brand's logo and the title of the pre-workout is the Genomyx logo. Genomyx is of course a separate brand with its own line of products, although it was originally acquired by Lecheek back in December of 2013.
Basically everything to do with the supplement Speed Xtreme is exciting, or at least looks and sounds exciting as this is the first update we've actually seen from the brand since February. The confusing part is Lecheek deciding to throw Genomyx's logo on the product, something we can't even begin to understand. It could mean Lecheek is combining with Genomyx, however if that is the case it'd make a lot more sense to use just the one name and logo. Regardless of whatever the reason is, we are now one step closer to the return of Lecheek's Speed Xtreme.