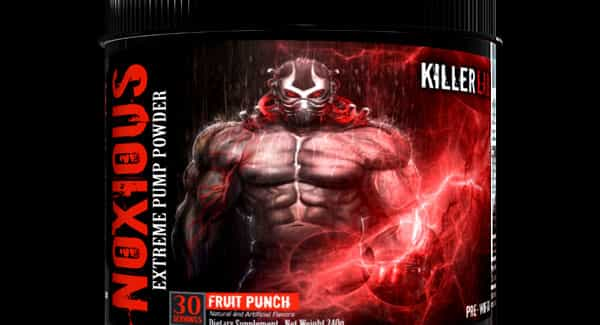 A month or so ago the relatively new, edgy brand Killer Labz, confirmed the coming of a stimulant free pump pre-workout called Noxious. That supplement has now been completely unveiled with today bringing the reveal of its official facts panel. As you'd expect from the hardcore brand, Killer Labz has packed the product with a handful of well dosed ingredients.
In total Killer Labz Noxious lists just five features, although as mentioned they are all pretty well dosed. The five ingredients making up each of the supplement's 30, 8g servings are 3g of l-citrulline, 2g glycerol, a gram of agmatine, 125mg norvaline, and lastly 50mg of epimedium (20% icariin). The ingredients have all been included to make sure Noxious delivers on its simple promise of giving you extreme muscle pumps.
Killer Labz Noxious
From here the wait is now on for the release of Killer Labz Noxious which is actually less than one week away. The brand itself has said the stimulant free pre-workout is going to be introduced sometime next week, with its website presumably going to be the place the product's launched.