The label for Cobra Labs next major release, its amino competitor Daily Amino, has been released and reveals quite a bit of what we expected. The supplement is indeed an energy infused amino cocktail, meaning the brand will keep with its theme of all of its products involving stimulants. While Daily Amino doesn't exactly have a lot of stimulants, they are in there with the supplement packing a combination of BCAAs, a few recovery ingredients, and an energy and focus blend.
Cobra Daily Amino
Unlike the Curse and more like Cobra Labs more recent pre-workout release, Shadow-X, Daily Amino is a 100% transparent product. All of the 10 features on its label are listed with their exact doses per 8.5g serving. From heaviest to lightest you have 2.5g of BCAAs at the usual 2:1:1 ratio, a gram each of taurine and glutamine, 350mg of CarnoSyn beta-alanine, 300mg micronized citrulline, 220mg guarana, 25mg green tea, and 2mg of olive leaf.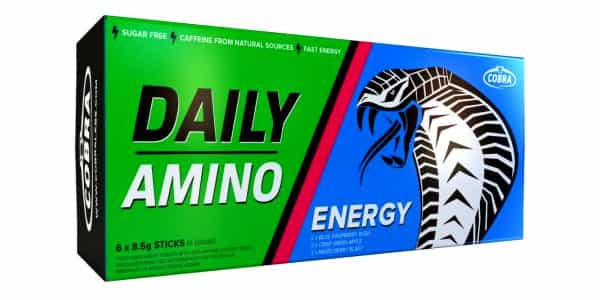 The entire concoction gives you a 110mg dose of caffeine per serving with a total of just over 5g of aminos. Cobra Daily Amino doesn't have an exact release timeframe yet, however when it does eventually drop you'll be able to get it in three 30 servings flavors, Blue Raspberry Rush, Crisp Green Apple, and Mixed Berry Blast. There is also going to be a six stick pack variety box available, presumably packing two sticks of each flavor.