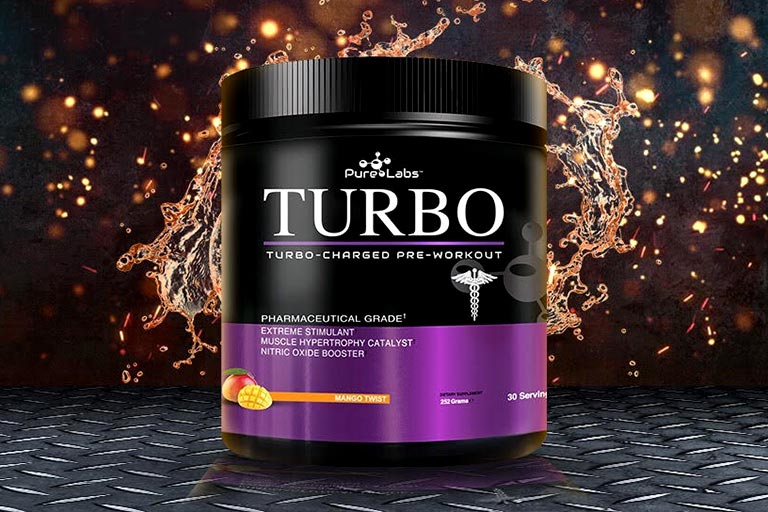 Some of you may remember quite a few years ago we featured a very powerful pre-workout supplement called Turbo, from a brand called Pure Labs. Since then we hadn't heard anything more from the company up until this week, as Pure Labs and Turbo have now officially returned.
Like most products, the pre-workout Turbo has evolved with the times and been updated with a modern formula. The supplement's new combination brings together seven different ingredients, all of which are transparently dosed, just like the original, and promise increased energy, muscle pumps, and clean focus.
The heaviest features in Pure Labs' new Turbo are 1.6g of beta-alanine, and a gram each of arginine silicate and taurine. Next, you have the energy and focus ingredients with 275mg of caffeine, 250mg of choline, and 125mg of DMHA, then lastly to enhance absorption, 3mg of BioPerine black pepper.
While it does look like there is room to two scoop the 2017 Turbo with features like beta-alanine at 1.6g, Pure Labs only recommends a maximum of one scoop. You do also have the issue of caffeine if you wanted to two scoop, as it would double from 275mg to 550mg, which is certainly a lot higher than we'd prefer.
If you like the look of the returning Pure Labs Turbo, it is now available in a couple of locations. For those that weren't aware the brand is from the UK, however one of the better places you can purchase the pre-workout does offer worldwide shipping.
To grab yourself a bottle of Turbo you can head to the brand's online store, or the retailer Factory Supplements which is the place to go for international shipping. Either way you go, the product will cost you the same at £29.99 for a full 30 serving tub.