MAN Sports has announced that its highly anticipated isolate protein powder MAN ISO-Protein is finally going to be available tomorrow. It'll be launched directly through the brand's website with an exclusive link sent to its text message subscribers. To get everyone ready for the big release, today we have everything you need to know about MAN Sports' second protein supplement.
Fast absorbing isolate
Fans of the brand will likely be familiar with MAN's first ever protein, the deliciously named and extremely transparent Clean Protein. The new MAN ISO-Protein is a protein product like Clean Protein but differs slightly with the type of protein it uses. Instead of featuring a blend of slow and fast absorbing proteins, it uses only the fast absorbing and very clean whey isolate.
Super clean macros
Like most isolate proteins, MAN ISO-Protein's macros are quite lean with the protein high, and carbohydrates and fat extremely low. Each serving of the supplement provides 25g of protein with 2g of carbs, zero sugar and fat, and just 110 calories. Like with Clean Protein, MAN has also transparently listed the supplement's source of protein on its label, clearly writing that each serving has 28g of whey isolate, yielding exactly 25.2g of complete protein.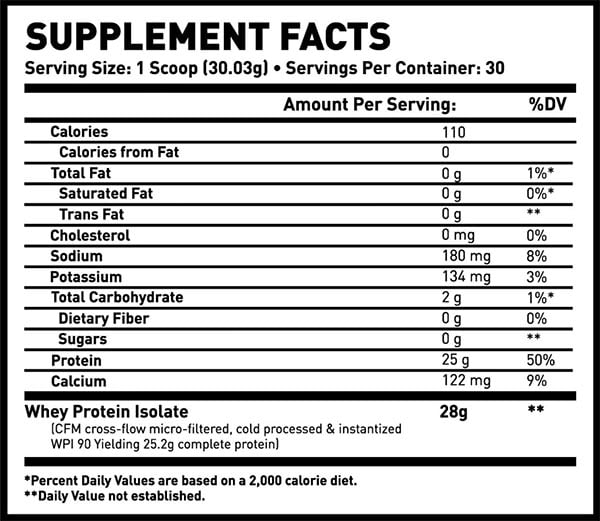 Four delicious flavors
As previously confirmed, MAN ISO-Protein is going to launch in four different flavors, three of those three being options from the brand's Clean Protein menu. The product's four 30 serving flavors are Chocolate Milk, Peanut Butter Bits, Vanilla Ice Creme, and the only non-Clean Protein recipe, Blueberry Muffin.
Launching through text
As mentioned earlier, MAN ISO-Protein is due to release sometime tomorrow through the brand's new text subscription list. This service is separate from MAN's email list, so while you may be signed up to that, you will need to sign up separately for texts. To do that simply send the word "PROTEIN" to 27126, or visit bit.ly/2tauYrM and subscribe there by entering your name and number.