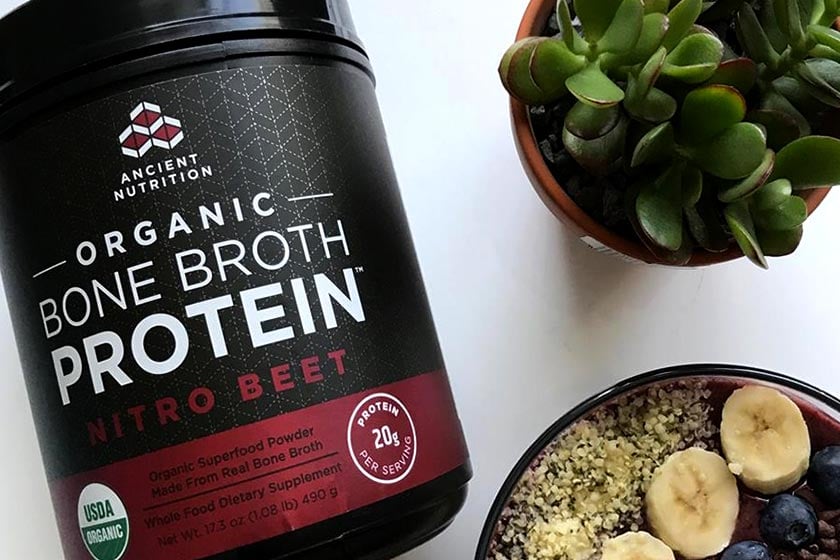 Ancient Nutrition has supersized its line-up of protein powder this week, doubling the amount of options it has available for its Bone Broth Protein fans. The unique brand has introduced a total of eight new flavors, although there is a little more to them than just being new flavors.
The latest from Ancient Nutrition is, in fact, a completely new organic line called Organic Bone Broth Protein. The formula behind the spin-off series of products is much the same as the originals, with 20g of protein per serving, zero or low carbs and sugar, non-GMO, and gluten, grain, dairy, and soy free. Quite a few of the new releases do also bring with them a little something extra related to their individual flavors.
The eight Organic Bone Broth Proteins are Cafe Mocha infused with organic coffee and cocoa, Peanut Butter, Turmeric Spice, Sweet Greens with extra organic greens. Dark Chocolate, Nitro Beet featuring organic beet root juice, French Vanilla, and Savory Herbs, a recipe combining bone broth protein with organic garlic, rosemary, and thyme.
Ancient Nutrition's Organic Bone Broth Protein line is already said to be available for purchase in some stores. As you'd expect the eight new products do come at a price slightly more expensive than the original Bone Broth Proteins, and also appear to have slightly fewer servings with 17 instead of 20.