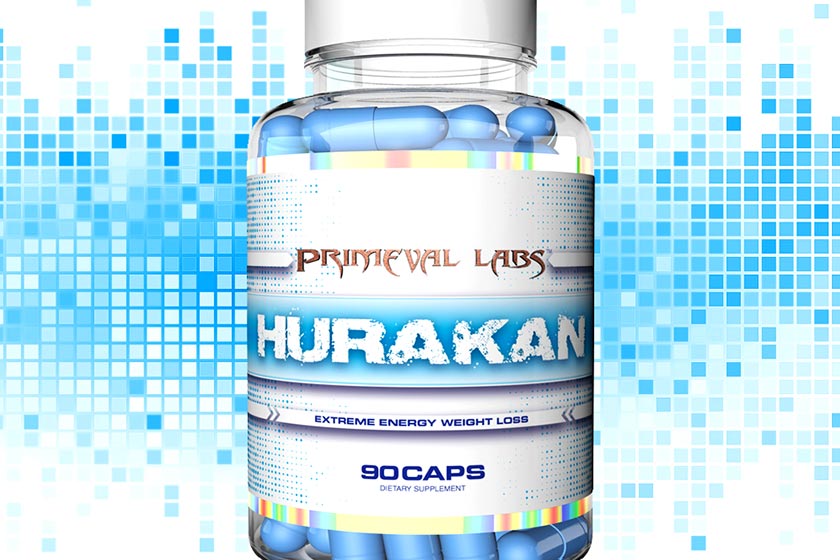 Last week Primeval Labs dropped a sneak peek at its latest weight loss innovation, introducing the stimulant containing fat burner Hurakan. This week the brand has revealed everything the upcoming supplement is designed to do and it makes sense as to why a big deal is being made about Primeval Hurakan.
Blend of both worlds
Because Primeval Labs already has two entries in the weight loss category with the stimulating Black Devil and top ten formula Pyretic, we were wondering what would make Hurakan different? The answer to that question seems to be that the product is somewhere between the brand's two fat burners. It features stimulant powered energy and focus like Black Devil, as well as proven ingredients for weight loss like Pyretic.
The complete list of effects Primeval Hurakan is promoting does bring together quite the variety. It includes intense, long-lasting energy and laser focus, mood enhancement, appetite suppression, fat mobilization, increased metabolism, extreme thermogenesis, and a heightened sense of well-being.
Stims with proven ingredients
As for the ingredients Primeval Hurakan relies on, it features two fully transparent blends and then a proprietary combination for its stimulants. The formula is led by a Metabolic Blend of 200mg of garcinia, 125mg of green coffee, 100mg of olive leaf, and 75mg of dandelion. Next is the four forms of carnitine for fat mobilization with 250mg of n-acetyl carnitine, 100mg each of carnitine tartrate and propionyl HCl, and 50mg of GlycoCarn glycine propionyl carnitine.
Last but certainly not least is Hurakan's non-transparent blend of stimulants for thermogenesis, energy, and focus. Coming together for a blend weight of 250mg per three capsule serving is caffeine, natural caffeine from green tea, Paradoxine branded grains of paradise, PEA, n-methyltyramine, evodiamine, cayenne pepper, PurCaf natural caffeine, guarana, and yohimbine HCl.
Looking at the formula Primeval has squeezed into Huraken, it is just as the brand says, a comprehensive combination. As mentioned earlier, it mixes proven weight loss ingredients like in Pyretic with stimulants for energy and focus like in Black Devil, making for a complete fat burning experience.
Now available direct
Primeval Hurakan is already up and available for pre-order through the brand's official online store at primevallabs.com. It'll cost you $49.99 for a full size 90 capsule bottle, which will last you 30 days or half that at 15 days if you decide to use Hurakan's maximum of two servings a day. Pre-orders are due to ship in only four day's time on Friday the 21st of this month.