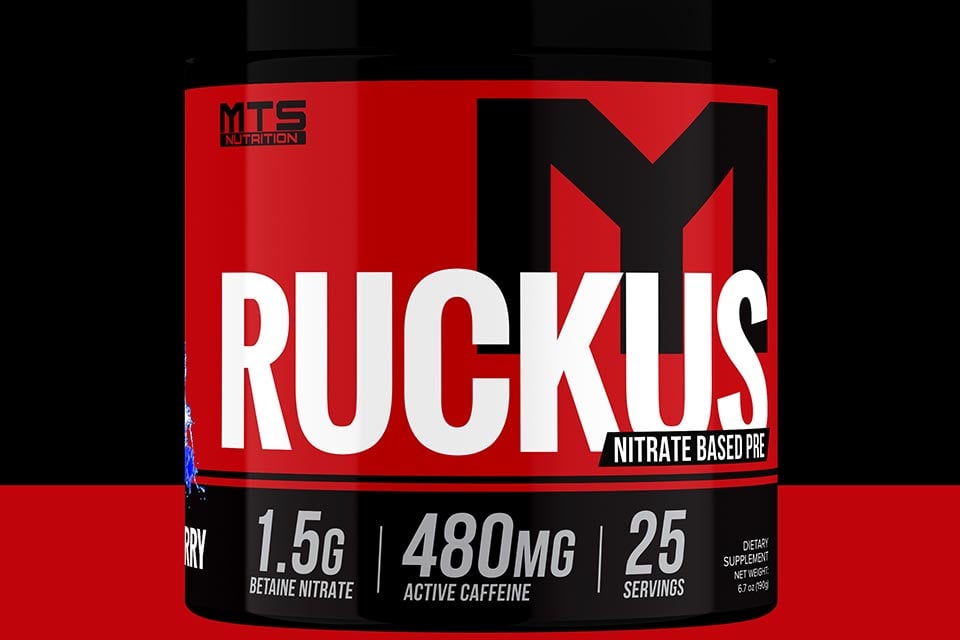 Just as it did earlier in the year with Clash, Marc Lobliner has updated his pre-workout MTS Ruckus with a new and improved formula. Everything from the original has essentially been maintained, with a few ingredients being switched out for different forms and a few all-new features now in the mix.
Concentrated pre-workout
Much like the original, the new MTS Ruckus is a more concentrated, stimulant based pre-workout for increased energy, focus, and strength. Like a lot of concentrate competitors, Ruckus doesn't use any of the heavier, more common performance and pump based ingredients like creatine monohydrate, beta-alanine, and citrulline.
A lot more caffeine
The updated MTS Ruckus includes 1.5g each of tyrosine and NO3-T betaine nitrate, a gram of taurine, and 150mg of ElevATP just like the original. You then have 50mg each of n-methyltyramine and hordenine, and the all new feature 100mg of theobromine. The pre-workout also packs three sources of caffeine with Infinergy, anhydrous, and sustained release VitaShure for a heavy total of 480mg of caffeine.
Knowing first hand just how effective the first MTS Ruckus was, and looking at all the changes Marc Lobliner and MTS Nutrition have made. The new Ruckus seems like it will pack quite the punch with a lot more energy, mostly due to the big increase in caffeine.
25% more servings per tub
The new and seemingly much improved MTS Ruckus is not yet in stock, but is due to be available at the home of MTS, Tiger Fitness, very soon. It'll be hitting the retailer in two tastes, Blue Raspberry and Pineapple, and actually have 25% more servings per tub than its predecessor with a total of 25.