It is that time of the year again where we get ready to once again run the annual supplement industry showdown known as the Protein Wars. This will be the fifth time we've run the growing contest, so we do plan on making it something special.
For those that are new to the Protein Wars, it's a relatively straightforward competition. We get together a list of the most popular protein powders on the market, and we put them into a ladder style head to head voting contest.
We start with the first round made up of groups of four, then the most voted supplement from each group moves forward. From there we have battles of four again in the quarterfinals, then battles of two in the semifinals, then a week-long head to head grand final.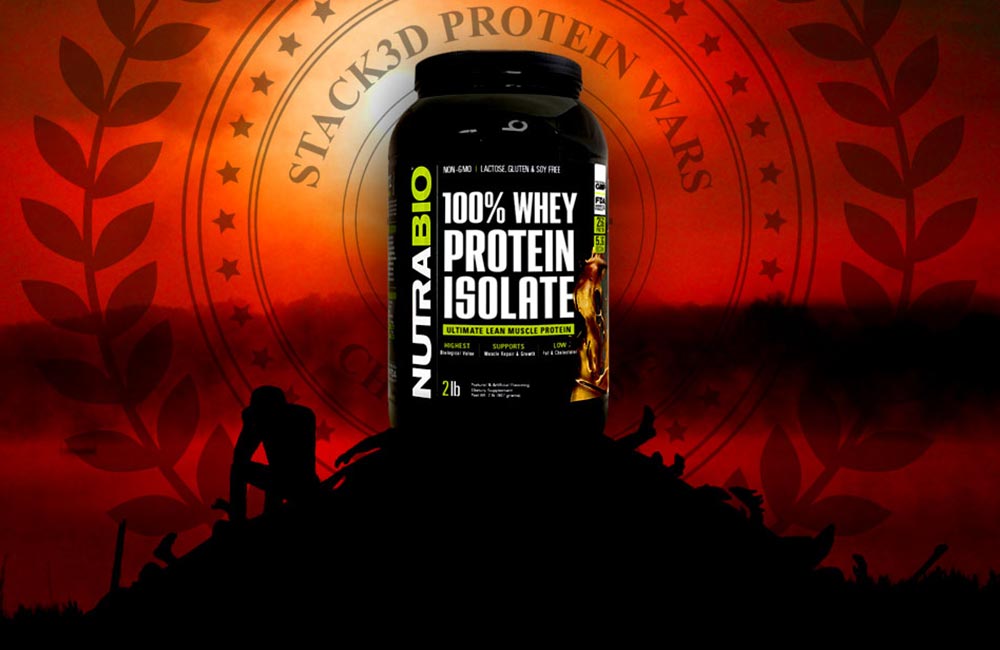 As a brief rundown of the winners we've had from over the years, the very first champion was Cellucor's Cor Whey, followed by Marc Lobliner's Machine Whey. The in the past two years, the competition has been dominated by Nutrabio's Whey Protein Isolate.
This week, to start things off we're building our list of competitors for the 2017 Protein Wars. Below you'll see all of the protein powders we had everyone vote on last year which we will be adding to. If you see one you think deserves to be on there simply comment, contact us, or let us know via social media.
The voting for the Protein Wars will start early next month at proteinwars.com and is expected to run for five weeks. Stay tuned to our website for more updates.
'Merica Labz Patriot's Whey
4+ Nutrition Whey+
Adaptogen Tasty Whey
AI 100% Whey Protein
American Metabolix Premium Whey
Animal Whey
ANS N-Pro
Beast Protein
Blackstone Labs 3-Whey
Blue Star Whey Smooth
Body Nutrition Trutein
BPI Best Protein
BSN Syntha-6
Cellucor Cor Whey
Core ISO
CTD Sports Isolicious
CytoSport Muscle Milk
Dedicated Nutrition Fusion Pro
Dymatize ISO100
Dynamik Muscle Prey
EVL Stacked Protein
Evogen Isoject
Finaflex Clear Protein
Force Factor Whey30
Gaspari Precision Protein
Ghost Whey
Giant Delicious Elite
Grenade Hydra 6
HPN Pro Zero
Inspired ISO Protein
iSatori Bio-Active Whey
Isopure Zero Carb
Jim Stoppani's Pro Jym
Killer Labz Predator Pro
Kodiak 3Whey
Magnum Quattro
MAN Sports ISO-Protein
MTS Machine Whey
Muscle Elements The Truth
Muscle Feast Whey Isolate
Muscle Sport Lean Whey
MuscleMeds Carnivor
MusclePharm Combat
Muscletech Nitro-Tech Gold
Mutant Pro 100
Myprotein The Whey
Nubreed Myoblast
Nutrabio Whey Protein Isolate
Nutrabolics Hydropure
Nutrakey Whey Optima
Nutrex Muscle Infusion
Optimum Gold Standard Whey
Outbreak Survive
Perfect Whey
Performix Native Whey+
PES Select
Pro Supps PS Whey
Purus Labs Myofeed
Quest Protein
Redcon1 ISOtope
RivalUs Promasil
Ronnie Coleman King Whey
RSP Nutrition Whey
Rule One R1 Protein
Run Everything Labs Pro
Scitec Whey Protein
Top Secret Nutrition Whey
Universal Ultra Whey
USN Blue Lab Whey
USP Modern Protein