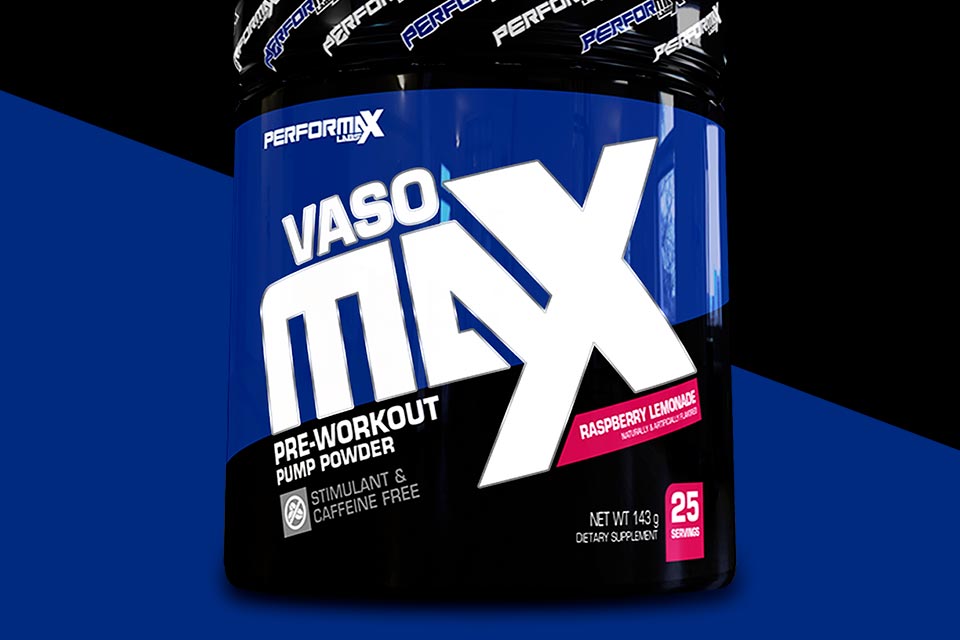 One of the supplements Performax Labs said it would be reformulating for its big October relaunch was its pump pre-workout VasoMax. We've now got a complete look at the new and improved product featuring a few significant changes to its formula.
Still a pump and focus pre
As you'd expect, while Performax Labs has reformulated VasoMax, the supplement is still designed to do the same kind of thing. It's a pre-workout formula aiming to deliver a combination of enhanced muscle pumps and improved mental focus. It also does all of this without the use of any stimulants.
GlycerPump over HydroMax
Regarding VasoMax's formula, it is broken up into two sides, one with four ingredients for muscle pumps and the other with three for mental focus. On the pump side of things you get 810mg of MaxNOx potassium nitrate, 40mg of rutaecarpine, 10mg of s-nitrosoglutathione, and 3g of the new more stable glycerol, GlycerPump.
Making up the other half of Performax Labs' VasoMax formula are its focus ingredients with 300mg of alpha-GPC, 25mg sceletium tortuosum, and 10mg huperzine A. Overall the combination is somewhat similar to the previous version of VasoMax, with its biggest change being GlycerPump glycerol instead of HydroMax.
VasoMax available today
Performax Labs fans looking to get their hands on the new and improved VasoMax, can do so later today through the brand's official website. Stock of the pump pre-workout is due to be added there very soon where it'll cost $32.29 for a full tub using the relaunch coupon "RL15".