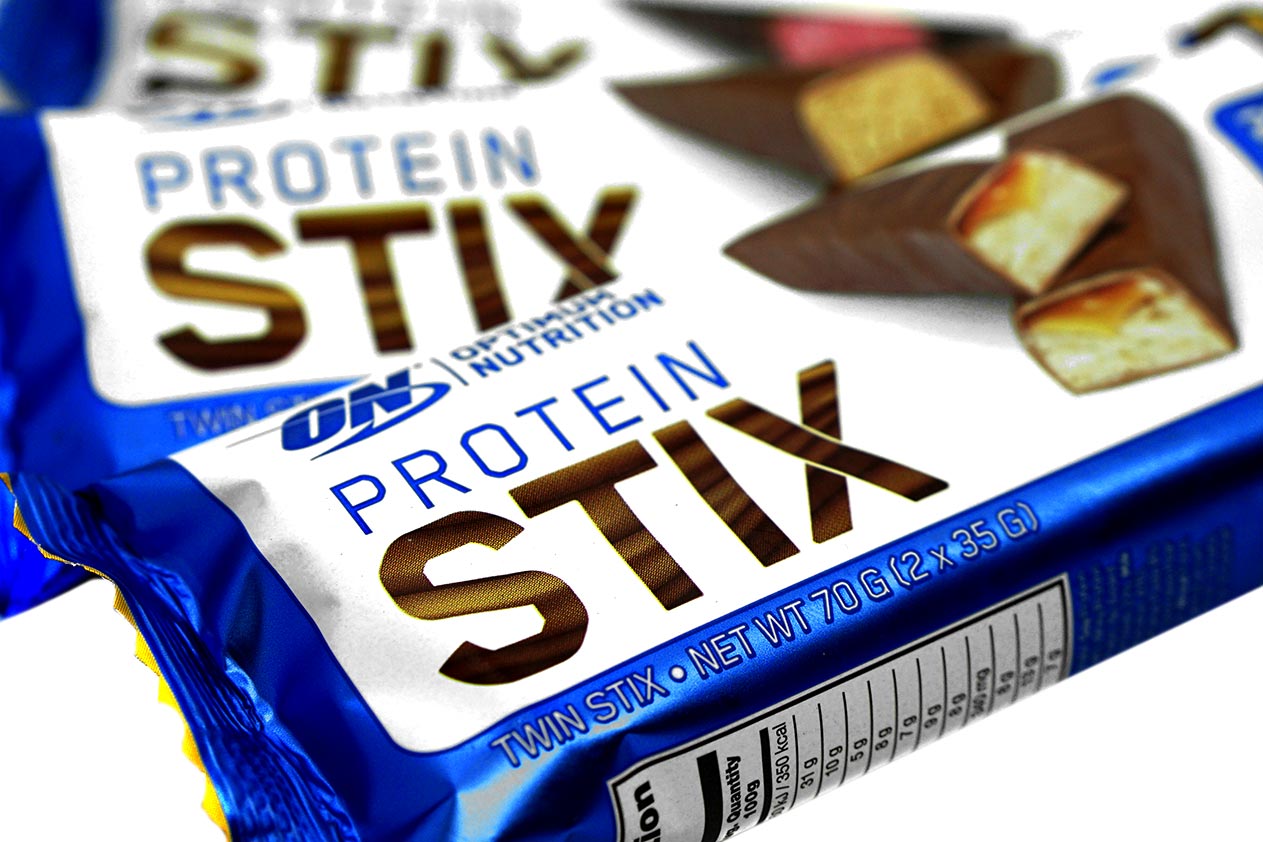 We recently posted about the still relatively new protein snack from Optimum Nutrition called Protein Stix. Based on how different it looks we knew we had to get a hold of it which is exactly what we've done to bring you a hands-on Protein Stix review.
Protein Stix nutrition
Despite looking quite delicious, the macros on Optimum Protein Stix are around the same as most protein bars. Each of the product's two bar packs provides between 20 to 23g of protein depending on flavor, with 3 to 6g of carbohydrates, 7 to 10g of fat, all for a total of 240 to 250 calories.
Delicious from the start
While a single Protein Stix isn't all that big, you will be greatly surprised when you bite into it as it deceitfully packs a massive amount of flavor. The chocolate coating on each of the Protein Stix flavors is extremely impressive, being on the same real chocolate like level as top bars such as Grenade Carb Killa and ProSupps MyBar.
Milk Chocolate Nougat
Once you bite through Protein Stix outer chocolate layer you get a more typical, doughy, protein bar center, although, it does depend on the flavor as to how enjoyable it is. The Milk Chocolate & Nougat is probably our least favorite of the three, with a simple flavor center that mostly rides the taste from the chocolate coating.
Chocolate Nougat & Caramel
The other two flavors — Milk Chocolate Nougat & Caramel and Dark Chocolate Cherry & Coconut — are where Protein Stix really shines. The Chocolate Nougat & Caramel is a lot like the simpler Chocolate & Nougat; however, it has a nice extra crunch to it as well as a sweet caramel layer along the top. That layer does a lot more than you'd think as well, as the chocolate and caramel twist together for a flavor that's closer to a candy bar more than anything else.
Dark Chocolate Cherry
Lastly is Dark Chocolate Cherry & Coconut, which sets the tone as soon as you bite into it with its dark chocolate coating, as it has a much richer chocolate compared to the other flavors. You then have the thick center combining a sweet hit of cherry and hint of coconut, that compliment the dark chocolate and make for a treat you can't help but enjoy.
Optimum's best snack ever
Going into this Protein Stix review we weren't expecting all that much from the snack. While it does look good in pictures, we thought it might not follow through with an equally delicious taste. Fortunately, Optimum Protein Stix is as good as it looks and is easily the best protein snack we've ever had from the brand.
Optimum's unique stick format for Protein Stix is a nice change of pace, but it is, of course, the overall flavor that makes this one a hit. It's realistic chocolate outside, and varying flavors inside make it an extremely competitive protein snack. We certainly hope the veteran brand decides to bring Protein Stix to the US as at the moment we can only seem to find it down under in Australia and New Zealand.