Grunt is an all-new amino supplement from our number one brand of 2017, Redcon1. As previously confirmed, Grunt is a more complete amino type product, featuring a full spectrum of essential amino acids as opposed to only the more common BCAAs.
Like most amino supplements, Redcon1 Grunt aims to help with muscle recovery, hence its slogan "train, repeat, recover". The product hopes to do that with a complete blend of all nine essential amino acids, including the three BCAAs at a much higher dose than the rest.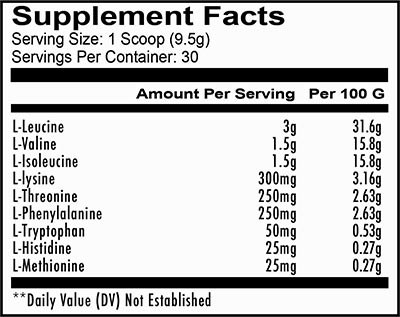 In total, Redcon1 Grunt packs just shy of 7g of amino acids, with almost all of that made up of BCAAs at a dose of 6g and a typical ratio of 2:1:1. The other 900mg can be seen in detail in the supplement's label above with the remaining six essential amino acids.
Redcon1 is expected to launch Grunt sometime this week through its official online store at redcon1.com. Fans of the brand will have a total of three 30 serving flavors to choose from in Cherry Lime, Tigers Blood, and Pineapple Banana.