Konnect is one of the two products currently available from Anastasis, a still very new, but uniquely marketed and formulated supplement company. Konnect is the brand's nootropic product that's designed to help users get more than 100% out of themselves during the day by providing increased mental and physical energy.
Since laying eyes on Anastasis and its two supplements, we really wanted to give the line a try, especially Konnect. We're big fans of products like this purely because of how useful enhanced energy and focus can be. It allows you to simply get things done by improving your attention, thinking, memory, and more.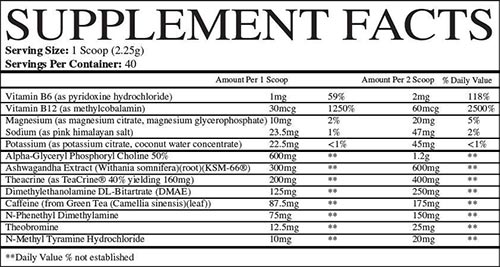 Formula
Before we get into our Anastasis Konnect review, we'll quickly run over its formula. As you can see in its facts panel above, its loaded with proven and effective energy and focus ingredients. The formula includes highlights such as the powerful eria jarensis at 150mg per maximum serving, 160mg of TeaCrine, and a strong 1.2g of the cognitive ingredient alpha-GPC.
Review
We found that the best serving size of Anastasis Konnect is up near its maximum, between one and a half to two scoops. At that amount, the supplement does exactly as advertised, deliver an effective combination of enhanced physical energy and even more so, mental energy, for an impressive and productive experience.
Konnect is perfect for whenever you need to get something or a lot of things done. It very easily clears your mind, forcing you to concentrate a lot better and stay focused on the task at hand. We also found the product enhances your cognition or ability to think, essentially helping you process and connect thoughts and facts much quicker.
There is a physical side to Konnect, where your body feels a little more energetic, similar to a stimulant fat burner or light pre-workout. We don't, however, think that energy gets uncomfortable as we've experienced in other focus supplements. While working, we found it just helps you type or move about faster, with no urge to want to expend the physical energy.
Summary
Compared to what else is out there on the market right now, Anastasis Konnect is an extremely competitive nootropic product. We have tried quite a few others, and this would easily be one of our favorites. The focus, concentration, and light physical energy effects aren't anything new, but what truly makes Konnect standout is that noticeably enhanced cognition.
If you're on the lookout for a new nootropic supplement or interested in mixing things up, you might want to give Konnect a try. Against the competition we'd say it's on par with the likes of MAN Sports BrainBridge and maybe a bit like Redcon1's Mental Trigger, but with a slightly less intense kick.