Apr 4th, 2018
Yummy Sports has revealed its new and improved formula for its pre-workout supplement Angry Unicorn. The reformulation is a lot like the original, in that it features a very simple and straightforward mix of ingredients, all of which you'll recognize if you're familiar with pre-workouts.
What is it
Like most products in the competitive pre-workout category, Yummy Sports' Angry Unicorn aims to deliver an energizing experience. The brand doesn't really make too many promises for the supplement, saying it "delivers an electrifying sensation designed for hardcore demands, hardcore intensity and most importantly, hardcore energizing results."
Formula
As for the formula behind the new Angry Unicorn, as mentioned it is pretty simple with a combination of six main ingredients. Those ingredients per maximum serving are a 2.5g of beta-alanine, a gram of tyrosine, a moderate 250mg of caffeine, 20mg of niacin, 330mg of DMAE, and 50mg of synephrine.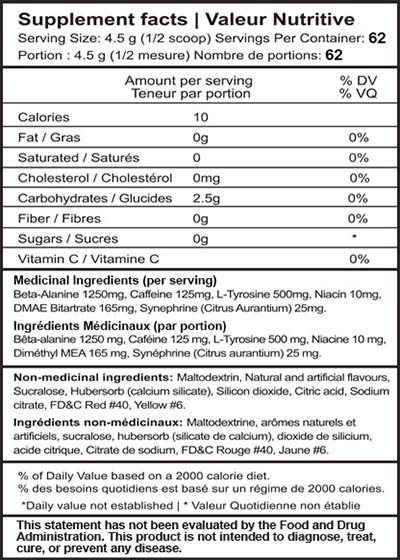 It is worth mentioning that those doses highlighted are all from a full scoop of Angry Unicorn which is equal to two servings. The product's facts panel picture above is actually based on a half scoop being one serving, with a whole scoop being the maximum amount Yummy Sports' recommends for a single workout.
Where to buy
The all-new Angry Unicorn pre-workout is now available through the brand's own online store at yummysports.com. Buying directly from Yummy Sports, the supplement will cost you $59.99 for a full 62 serving tub in four flavors with Sour Watermelon, Nerdiez Delight, Gummy Wormz, and Funky Peach.