Inspired reformulates its fat burner KOR with Dynamine and eria
Apr 24th, 2018
In the coming weeks, Inspired Nutraceuticals will be launching its new and improved stimulant powered fat burner KOR. Much like it did with its previously number one rated pre-workout DVST8, the brand has taken the previous version of KOR and reformulated it.
What is it
The updated Inspired supplement is still of course primarily a fat burner and promises a lot of the same effects as its predecessor. The brand has designed the 2018 edition of KOR to increase energy, enhance mental focus, and support overall weight loss.
Formula
As far as the ingredients go for the new Inspired KOR, the product comes with seven different features, a lot of which weren't in the previous version. The list includes the commonly used fat burning compounds coleus forskohlii at 250mg per serving, 100mg of Advantra Z, and 50mg of Paradoxine branded grains of paradise.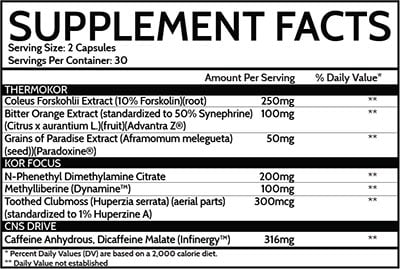 Making up the other half of the KOR formula are all of its ingredients for energy and mental focus. For that, the brand has gone with 100mg of Dynamine and 200mg of eria jarensis,— a pair that's also in the new DVST8, as well as 300mcg of toothed clubmoss, and a 316mg blend of caffeine anhydrous and Infinergy dicaffeine malate.
Launching soon
Inspired plans on officially launching its reformulated KOR very soon, in fact, it has already been up for pre-order on the brand's website. Those pre-orders are due to ship on the last day of this month, so we imagine stock for those that didn't get in early will be available soon after that date.