ioWhey Protein from Performix is a truly game-changing supplement
Apr 30th, 2018
It's not often we see a supplement that we'd describe as something game-changing, although, that is exactly what we have here from Performix. The brand known mostly for its Terra Bead Technology products has introduced a new protein called ioWhey Protein, that's unlike anything we've seen before.
What is it
At first Performix ioWhey Protein may just look like another whey isolate entry into the competitive protein category; however, it is far from that. The big difference with this one which can be difficult to believe, is that its 22g of protein per serving provides the same benefits as a serving of regular whey isolate with 30g of protein.
Ingredient Optimized
Performix has infused the supplement with Ingredient Optimized® technology, a patent-pending process that modifies the molecular structure of ingredients. In ioWhey Protein it has been applied to high-quality whey isolate, drastically increasing its bioavailability to essentially give you more from less.
The claim of 22g of protein from ioWhey equaling that of 30g of protein, is actually backed by a clinical study. It is a truly impressive fact, one that as mentioned makes Performix's new protein a real game changer. It gives you the unheard of ability to take in the equivalent of 30g of protein for only 100 calories.
Macros and flavors
The complete nutrition profile for Performix's ioWhey Protein includes that 22g of protein, equal to 30g of protein from a standard whey isolate. You then have 2g of carbohydrates with a gram of that fiber, half a gram of fat, for a complete total of 100 calories.
To go with the incredible innovation that's gone into ioWhey Protein, Performix has also put together a delicious set of flavors. There are three to choose from with Fruity Cereal, Chocolate Brownie, and Vanilla Ice Cream, all of which are said to bring a different kind of taste and texture thanks to the Ingredient Optimized technology.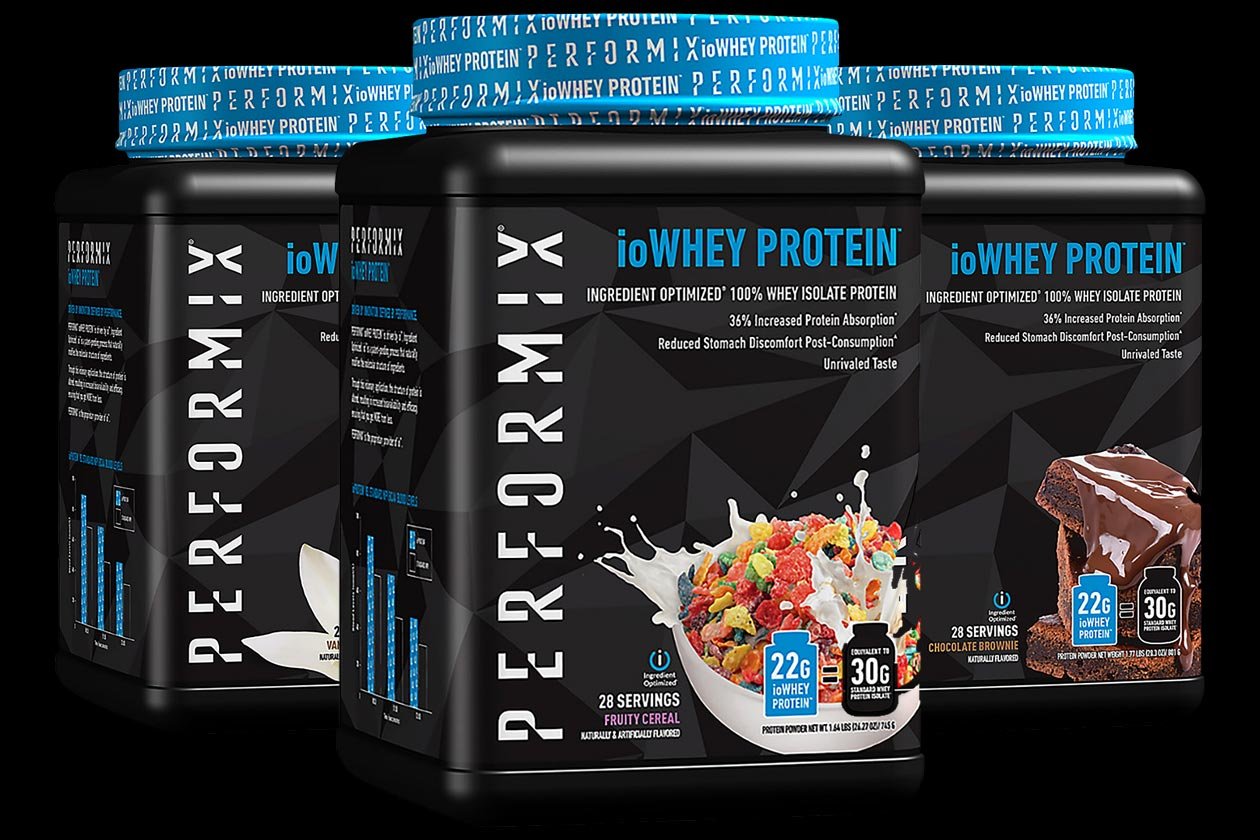 Where to buy
Performix's innovative new ioWhey Protein is now exclusively available through the Vitamin Shoppe in 28 serving tubs for a regular price of $39.99. When you take into account its claim of 22g of protein being equal to that of 30g, that's a very competitive price compared to other 28 serving whey isolates.
It is also worth mentioning that the Vitamin Shoppe is currently running a massive sale with 25% off everything it has from Performix, through until May 27th. That does, of course, include the brand's all-new ioWhey Protein, which drops down to an even more competitive $29.99 per tub.