When Redcon1 announced that it had put together a new and improved version of Total War without the use of DMHA, we were immediately curious. A lot of the pre-workouts that have been reformulated without the powerful stimulant haven't been as impressive as their predecessors, so Redcon1's confidence certainly caught our attention.
Over the past few weeks we've been working out with the updated Total War, and before we get into how it all plays out, it is indeed an improvement. You can see Redcon1's reformulated label below featuring a lot of the major highlights from the original along with a handful of changes to its blend of energy and focus ingredients.
Review
If you're a fan of the previous DMHA powered Total War or were on the other side and didn't find it was as strong as you were looking for, you'll definitely enjoy the new version. The biggest differences with this one are that it hits a whole lot harder, although while that may sound a bit over the top, it also has a much nicer overall balance of effects.
After taking a nice level scoop of Total War, it takes about 10 minutes or so to hit you, and when it does, it hits pretty intensely. You'll feel a strong rush of urgent energy that can be overwhelming at first but does tend to calm down as you start making your way through your workout. It doesn't exactly fade or anything, just drop to a level that's more controllable.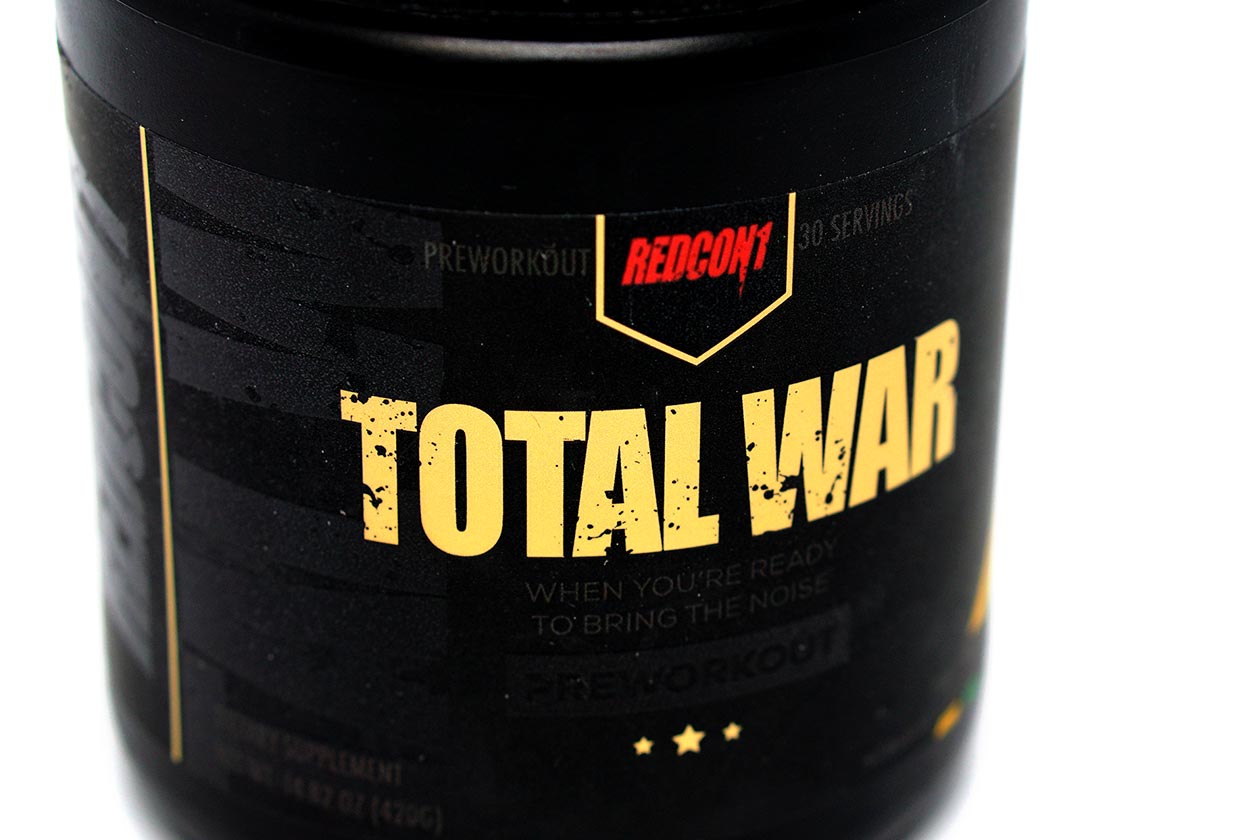 Shortly after the energy kicks in then gradually drops to a more comfortable intensity, you'll start to feel a slight change in mental focus as well. The supplement doesn't quite clear your head or give you that tunnel vision type focus. We'd best describe it as an aggressive mental drive that goes together nicely with the energy to create a powerful mental and physical experience.
Lastly, to go with Total War's energy and complimenting focus, the pre-workout has a strong pump effect. When using slightly less than a level scoop we found the pump is a fair bit stronger, although no matter which way you go the product does noticeably enhance pumps.
Like with most if not all pre-workouts, you will build a tolerance to Total War, especially if you use it every day. We definitely didn't get used to it as quickly as the original version or really any DMHA powered pre-workout. We found it worked best and consistently delivered well when using it only two or three times per week.
Summary
Overall, the new Total War comes through just as well as the brand promised, by simply being better than the original. Its energy certainly hits harder and seems to work and flow much nicer with the enhanced mental focus. As mentioned, better muscle pumps are also in the mix, which always makes a pre-workout that much more enjoyable.