We recently shared details on TF7 Labs' all-new version of its pump pre-workout Virus, that features a greatly improved combination of ingredients. Today we're sharing details on another supplement the brand has updated for 2018, its stimulant powered weight loss product Antidote.
What is it
Much like with TF7 Labs' new and improved Virus, the primary goal of the new Antidote has remained the same. The supplement is still designed to help you lose weight with a variety of ingredients. This time around however the brand has gone with a much stronger mix of ingredients with a wider variety and better dosing.
Formula
When it comes to the formula of the transformed TF7 Labs Antidote, you can't really compare it to its predecessor; they are just that different. The previous version packed all of its features into just a two-capsule serving, whereas the updated one is a powder formula with over 7g of active ingredients.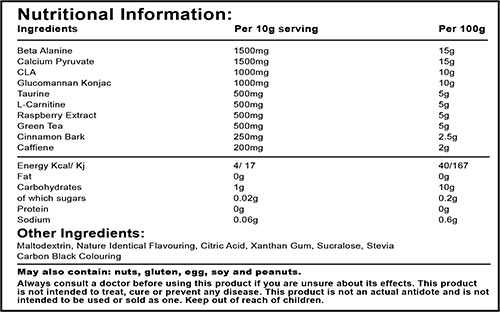 The full formula behind the 2018 Antidote includes 1.5g of calcium pyruvate, 250mg of cinnamon, a gram each of CLA and glucomannan konjac, and half a gram each of taurine, carnitine, raspberry extract and green tea. There is also 200mg of the classic and reliable stimulant caffeine, and 1.5g of the performance ingredient beta-alanine.
Where to buy
There are already a number of places in the UK that you can purchase the reformulated TF7 Labs Antidote including Tropicana as well as the brand's website. The former currently has the product for slightly cheaper at £29.99 for a full 40 serving tub in five flavors, Black Jack, Cherry Bomb, Cola Blizzard, Blueberry Potion, and Fruit Salad.